Are you thinking of teaching yourself how to play the saxophone? Is it even possible to learn the sax by yourself? What are the different ways to learn to play the sax on your own? How long does it take to learn to play the saxophone on your own?
This and many more questions are what we'll answer for you in this article. If that's something you're interested in, then let's get into it.
Saxophones can definitely be self-taught. You can teach yourself how to play the saxophone without the assistance of an in-person saxophone tutor. There are many helpful saxophone tutorials, courses, books and apps made for complete beginners interested in playing the saxophone. However, this may be quite challenging and time-consuming, especially if you are starting from scratch.
How Do You Teach Yourself the Saxophone?
You can teach yourself how to play almost every musical instrument. Saxophones are no different. However, to do so, you would need some amount of help and resources to aid your quest.
I will talk about the resources you can depend on to learn the saxophone very soon. The good news is, most of these resources can be found on the internet. An advantage that these resources have over in-person saxophone tutors is that they can be accessed whenever you are ready to learn. Thus, they are handy and readily available whenever you need them.
Beginner Saxophone Method Books
This type of book details the relevant techniques needed to play the musical instrument. Most of these beginner method books also provide specific instructions and in-depth information on problems concerning technique and how to address them.
Most saxophone method books also contain simple popular songs and how you can play them. They also provide you with a lesson plan to follow. Therefore, acquiring a good saxophone beginner method book will help greatly when learning to play the saxophone by yourself.
One of the most sought-after saxophone method books available today, based on the reviews by its users and professional sax players, is the Universal Method for Saxophone (on Amazon).
One of the ways of teaching yourself the saxophone is by acquiring a beginner method book on saxophones. A Method book is basically a textbook about a particular musical instrument.
This method book covers everything from how to play your first note on the sax, fingering, breath control, saxophone reeds, how to play high and low ranges, and even has a guide on how to tune your saxophone, which we have an article about.
The Universal Method for Saxophone is a book I'll definitely recommend for complete beginners and intermediate sax players.
Online Saxophone Courses
Online saxophone courses are, without a doubt, one of the best ways to learn the instrument. And actually, I highly recommend purchasing or subscribing to a saxophone course online if you're serious about learning how to play the sax.
Why do I say this?
Firstly, saxophone courses are well planned and organized. And that makes it easy for beginners to follow along step by step.
Secondly, it is the closest you can get to an in-person tutor. Saxophone video course makers are usually made by expert saxophonists who are also experienced, in-person tutors. This means they know all of the questions beginners ask and make sure they address them in their courses.
And if you go for a subscription-based saxophone course, tutors always update their courses with new content to address some of the most common questions asked by subscribers. And this keeps the content helpful and up to date
Video Tutorials
No matter which field or subject area you desire to learn about, there are lots of video tutorials and guides that can point you in the right direction. All you need to do is to diligently search for them.
One of the best places to start from is YouTube. YouTube has a large collection of video tutorials concerning the learning of saxophones. Most of these videos will provide you with all the information you need to know when learning to play the saxophone.
Unfortunately, some of these videos are not that great as well. Thus you may have to spend a little time sorting out the good videos and channels from the bad ones. And this is the advantage courses have over free YouTube.
That notwithstanding, it will be worth your while once you settle on a great saxophone lessons channel.
Smartphone Apps
There are great smartphone apps that can help you learn how to play the saxophone. They are ideal for saxophone practice and provide a huge collection of valuable information on saxophone learning. Most saxophone learning apps on smartphones offer tutorials that are useful for teaching novices. Thus, they help refine the skills of saxophone players.
Intermediate and advanced saxophonists can also rely on them to refresh their memories. Some of these apps also offer detailed information on fingering charts for saxophones. Thus, smartphone apps that teach you about saxophones can be of great value to you when learning to play the saxophone.
Here are two of the most popular apps for beginner saxophone players
How Hard Is It to Teach Yourself Saxophone?
Of all the wind instruments available, saxophones are the easiest to learn on your own. Though this may be true, it can be quite hard to teach yourself how to play the saxophone nonetheless. This is because, without any in-person guidance, you may find it challenging to grasp some of the saxophone playing techniques and habits on the first few tries.
Tone articulation, proper fingering, and tone production are some of the few elements you need to master when learning how to play the saxophone. Unfortunately, without proper guidance, you are likely to adopt bad habits in these areas when learning. This will affect the quality of sound you produce when playing.
Therefore, what I'd recommend is that you get a tutor that will guide you during the early stages of your saxophone journey. Doing this will give you a solid foundation to build upon. After grasping the fundamentals of playing the saxophone from an in-person tutor, it is easier to teach yourself to perfection.
How Long Does It Take to Self-Learn the Saxophone?
On average, it can take between 2-4 years to self-learn the saxophone. How long it takes to learn to play the saxophone depends on how often you practice, and your commitment to learning the instrument.
In general, with enough practice and dedication, you should be able to learn the saxophone in about 2 to 4 years. However, people who learn to play the saxophone on their own do not progress as fast as those who seek the services of experienced in-person tutors.
Also, individuals with prior experience playing other wind instruments, especially clarinets, tend to learn the saxophone within a relatively short period.
Factors That Affect Your Ability to Learn Saxophones Quickly
Experience with Other Wind and Woodwind Instruments
If the saxophone is the first woodwind instrument you are trying your hands on, you might find it relatively more difficult to play it than someone who already plays other woodwind instruments. This is because, having experience playing other wind or woodwind instruments, particularly the clarinet, can positively affect your ability to learn the saxophone quickly.
People with prior experience of playing other woodwind instruments usually adapt quickly to saxophones. My previous article titled, "Can saxophone players play the clarinet?" sheds more light on this. Therefore, being able to play other similar wind instruments gives you a learning advantage over an individual who has never played any wind instrument.
If an individual is a complete woodwind instrument novice, related concepts such as embouchure, breath support, volume control, and fingering might seem foreign. Thus, it may be relatively harder for such an individual to grasp these concepts properly in a short time.
Practice Time and Effort
It takes time to learn how to play a musical instrument. If you want to improve your ability to play the saxophone, you need to practice regularly. You need to dedicate time to play the saxophone every day. In fact, it is better to play the saxophone for 5 to 10 minutes daily than to play for 1 hour once a week.
Without enough practice, a large number of videos and tutorials you watch or the lessons you read on saxophones will not amount to much. Therefore, regular practice is the key to learning the saxophone.
Final Thoughts
You can definitely learn to play the saxophone on your own without the assistance or guidance of an in-person musical teacher. This option for learning how to play the saxophone is less expensive.
However, ideally, you would want to get a local saxophone tutor or musical teacher to guide you. Acquiring the services of an in-person tutor is the shortest and the best route to learning the saxophone.
Having 1-on-1 lessons with an experienced teacher will help improve your playing technique. These lessons will also highlight things concerning your playing ability that you might not notice easily on your own.
The disadvantage with this option is that it is quite expensive. It tends to be time-consuming as well since it involves making appointments and possibly moving from one place to the other for lessons.
Alternatively, you can have virtual 1-on-1 lessons with your in-person tutor. This cuts out the possibility of moving from one place to the other for lessons and is relatively less expensive as well.
Therefore, though you can teach yourself to play the saxophone, taking 1-on-1 lessons with an experienced saxophone teacher will go a long way to make you better in a relatively short time.
Conclusion
Saxophones can be self-taught. Therefore, it is possible to teach yourself to play the saxophone. To do so, you need to be disciplined and spend adequate time practicing.
However, without help from an in-person tutor, it can be quite challenging and time-consuming. Therefore, though you can teach yourself to play the saxophone, you will save yourself from frustration when you take lessons from an in-person saxophone tutor.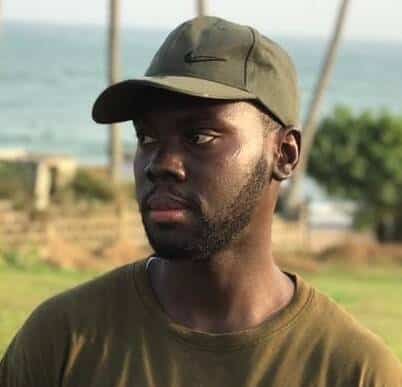 Hello, I'm Elijah. A writer on Geek Musician, based in Ghana-West Africa. I am a writer with a passion for research and reading. I usually spend my free time playing chess or watching movies. For more info, check out my about me page. Or read more of my articles here.