It's always challenging to choose between two models of DAC. Many of us have our clear preferences, but with so many new models coming out with more modern specs and better capabilities, our choices aren't always that straightforward.
So, between the iFi Zen DAC v2 and the FiiO K7, which is the better DAC to buy?
The iFi Zen DAC v2 has limited input and output options, but it has a warm and rich sound signature with TrueBass and plenty of customizability options. The FiiO K7 has more inputs and outputs, making it better as a general-use DAC, and its sound signature aims for smoothness over richness.
One size does not fit all when it comes to DACs, and some prefer a richer sound, while others prefer it to be as clean and pure as possible.
Let's go into more detail on the specifications, capabilities, and features of the iFi Zen DAC v2 and the FiiO K7.
Design and Build Quality
The iFi Zen DAC v2 (on Amazon) and FiiO K7 (also on Amazon) are both high-end DACs with exceptional, premium build quality. The K7 has a traditional design with a black anodized aluminum body.
The Zen has a more elegant design, with a black aluminum body and a more straightforward interface. Neither has a digital display, but they both have simple interfaces and clean, modern looks.
Their designs are compact, and both easily fit on a desk or a shelf. The Zen has a sleek, modern look with a shape that looks both angular and curved, almost aerodynamic. The K7 has a more traditional rectangular design that will fit well with any of your current audio equipment.
The K7 measures 16.8 cm x 12 cm x 5.5 cm, while the Zen's measurements are 16 cm x 11.7 cm x 3.5 cm, making it smaller (and more portable, though that's not its intended purpose) than the K7 in almost every way.
Both devices have the exceptional build quality needed to make them feel premium. The K7 feels slightly heavier and more durable than the Zen, but it's a slight difference. Both are aluminum, but the K7's interface looks more like a professional piece of music equipment than the Zen.
To summarize, both are excellent. The sleek look of the Zen DAC v2 will appeal to some because of its unique, unconventional shape. At the same time, the K7's more traditional robust look, large volume control button, and impressive RGB lighting will appeal to many.
Also: JDS Labs Atom vs FiiO K5 Pro
Input/Output
Both of these DAC models have a range of inputs and outputs to choose from, each with its own set of features.
The FiiO K7 has the following I/O options available:
6.35 mm Headphone output
4.4 mm Balanced headphone output
Single-ended line-in
Single-ended line-out
Coaxial input
Optical input
USB input
In comparison, the Zen DAC v2 has the following:
Balanced 4.4mm analog output
RCA analog output
USB input (for audio or power)
As you can see, the K7 wins with its much more comprehensive range of input and output options. However, that doesn't make the Zen a lousy choice.
It has a built-in phono preamp for turntables and a TrueBass feature, which enhances bass response, along with a built-in EQ and tone control, allowing efficient sound signature customization.
This makes the Zen DAC v2 more of a niche DAC, especially since it only has a USB input. Meanwhile, the K7 is more of a general-purpose model. However, if you need plenty of I/O options, the K7 is definitely the way to go.
Unique Features
One of the most notable unique features of the iFi Zen DAC v2 is its built-in phono preamp for turntables, which is rare for a DAC at this price point.
It also has a TrueBass feature, which enhances bass response, and a built-in EQ and tone control, which allows you to customize the sound signature of this DAC. These features may appeal to those who want more control over their sound.
The FiiO K7, as more of a general DAC, also has a few unique features. Its main selling point is its dual DAC chips. The left and right channels are equipped with one 32-bit AK4493SEQ chip each that offers 768kHz PCM and DSD512 playback, creating proper audio balance.
But it is also equipped with very precise volume controls. The volume potentiometer features 112 steps of smooth adjustable volume without channel imbalances or noise of any kind.
Neither has a better set of unique features than the other; they are both capable DACs, but they will appeal to different people based on their musical preferences and interests.
Also: RME ADI 2 DAC FS vs Topping D90
Technical Specifications
These two DACs have entirely different hardware specifications, so let's compare them more closely.
iFi Zen DAC v2
The iFi Zen DAC v2 is a high-performance DAC with impressive specifications. It uses the AK4493EQ DAC chip as its primary driver, which supports up to 32-bit/768kHz and DSD512 decoding. This means it can handle various audio formats and resolutions, including high-resolution audio files.
The Zen DAC v2 has a signal-to-noise ratio (SNR) of 116dB and a total harmonic distortion plus noise (THD+N) of less than 0.0015%. It indicates that the device is capable of reproducing audio with exceptional accuracy.
As mentioned, one unique aspect of the Zen DAC v2 is its TrueBass feature, which enhances bass response. This feature can be helpful for those who want a little extra bass in their music.
The device also has a built-in phono preamp for turntables, which is uncommon on DACs, especially at this price.
FiiO K7
The FiiO K7 has dual AK4493SEQ DAC chips that support up to 32-bit/768kHz PCM formats as well as DSD512, just like the Zen DAC v2. But this one also has dual THX AAA 788+ amplifiers, one for each channel.
This means it has a truly balanced output. Furthermore, it features multiple protection systems, guarding the device against overheating and over-voltage problems.
The K7 has a slight advantage over the Zen because of its dual decoder chips and dual THX amplifiers. Unfortunately, the manufacturer isn't clear about the exact THD+N, only specifying that it's below 1%, so we can't adequately compare the K7 with the Zen on that front.
Sound Quality
The FiiO K7 has a warmer and more musical sound signature, focusing on smoothness and musicality. It has a somewhat narrow soundstage but delivers excellent detail and audio separation. It's easy to adjust to different musical styles, which really makes the music come alive.
The iFi Zen DAC v2's sound signature is just as warm as that of the K7 but with a stronger focus on richness, and it also has a more elevated bass response and smoother treble than the K7.
The Zen has a signal-to-noise ratio (SNR) of 116dB, which means it can produce audio with very little background noise.
We already mentioned the TrueBass feature, which enhances bass response. Combined with the built-in EQ and tone control, it allows you to adjust the sound signature to your liking.
Regarding headphone amplification, the Zen DAC v2 is far better than the K7 because it can output up to 280mW of power into a 32-ohm load. While this is not quite as powerful as some more expensive models, it is still more than enough to drive most high-impedance headphones.
Overall, the sound quality of both DACs is similar enough to make no difference to most users. The only significant difference is in their sound signatures. The K7 has a warm and smooth sound signature, while the Zen's focuses more on richness, emphasizing stronger bass.
User Experience
The iFi Zen DAC v2 and FiiO K7 both offer simple interfaces and a great experience if you keep their particular limitations and unique features in mind.
FiiO K7
The FiiO K7 does not have an LED display but has plenty of customizable settings, especially when you connect it to a computer running its optimization software. It has physical buttons for volume control and input selection, which keeps the interface simple and easy to use.
One problem with the K7 is that the volume knob also controls the power. When you turn it down all the way, it switches off, and you must turn it up again to turn it on.
This means that it does not save previous power settings, but on the positive side, it also means that you won't suffer ear shock when the music starts playing.
Unfortunately, that is still a deal-breaker for some users who want to save their volume settings. When we also consider the fact that many of the controls have tiny buttons, it's also more inconvenient; but, in fairness, these are controls that you won't have to adjust often.
iFi Zen DAC v2
The Zen DAC v2 has a more straightforward interface with fewer buttons than the K7, so many users find it even easier to use. It also comes with a set of interchangeable faceplates, so you can customize its appearance if you don't like the brushed aluminum appearance.
Since the power and volume controls are kept separate, it's much easier to keep your volume settings than with the K7.
It also offers a computer connection with dedicated configuration software, so it's easy to create some presets that you can then easily enable and use without further tampering with buttons.
Final Words
Overall, the two devices are similar in sound quality and user experience, despite them being so different under the case. Those who prefer a richer sound and don't need plenty of inputs will love the iFi Zen DAC v2.
However, those looking for more input and output options and a smoother sound experience will prefer the FiiO K7 with its dual processors and two THX amplifiers.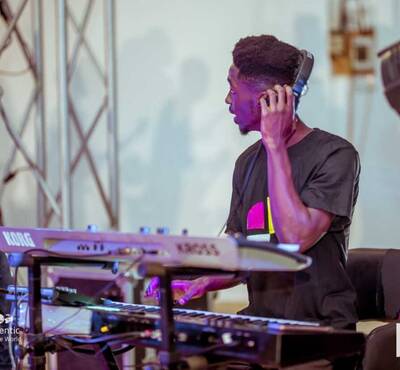 Hi, I'm Raymond. A keyboard player, music producer, and writer. And I'm also the founder of this blog. As someone who has been working with several audio and music equipment and different musicians for many years, my goal is to answer all your questions on music and equipment, as well as the latest music software and technology. For more info, check out my about me page