Having an audio interface's preamp color the sound of our recordings is what many recording engineers don't like. For one, some of the preamps on budget audio interfaces are not that great. And secondly, many professionals have an external preamp they prefer using.
Whatever your reason, if you are looking for an audio interface without preamps, this post is for you. You will learn about audio interfaces without preamps, including audio interfaces that can bypass their preamps.
Obviously, there are quite a number of them available today, but I'm focusing on the audio interfaces I've had personal experience with and loved, backed by research, as well as some recommendations from recording engineers.

In a hurry? Here are my top picks: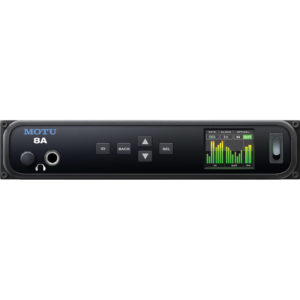 MOTU 8A
This is my no. 1 pick for an audio interface without a preamp. You will get 8 line-level inputs and 8 outputs from this interface, and you can have additional inputs and outputs with the ADAT connection, all in this compact box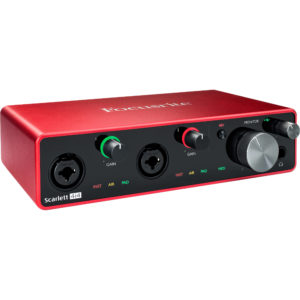 Focusrite Scarlett 4i4
My no. 2 pick is the Roland Jupiter Xm if you have a little extra to spend. This is a digital synth suitable for the studio and for live performance, 1000's of presets to choose from, and very easy to tweak and edit sounds.
Before we jump into the reviews, let's take a look at some of the things to consider when you are buying a synthesizer with built-in speakers. This will not only help you in making a decision, but also help you find that fits your budget and needs.
3 Things to Consider when Choosing an Audio Interface
Before you pick up any of these audio interfaces, here are some things you need to consider.
1. Number of Inputs/Outputs
The number of inputs you are getting on the interface is extremely important. Perhaps you are a songwriter who plays an acoustic guitar as well. In that case, a two-input audio interface will work fine for you.
However, suppose you collaborate with other musicians or record a band or work with different external preamps and outboard gears. In that case, it's convenient to have an audio interface with multiple inputs and outputs.
Calculate the number of inputs and outputs you require by going through what you want to achieve with an audio interface and find an option that will do the work.
2. Budget
How much are you willing to spend on an audio interface? That's a question you need to ask yourself as well. That's because there are budget options, mid-range, and high-end audio interfaces available.
Many factors account for the price difference in audio interfaces. First is the number of inputs and outputs; second is the overall build quality and robustness, and then lastly, the quality of the Analog-Digital-Analog converters.
In my opinion, A/D/A conversion in an interface shouldn't be much of a deciding factor because even the cheapest audio interfaces out there deliver excellent analog to digital conversion and vise versa.
3. Connectivity
Although the standard way of connecting an audio interface to a computer is via a USB cable, there are other ways to connect an audio interface to a computer.
Firewire is one way to connect audio interfaces to a computer. Nowadays, Thunderbolt and Ethernet are taking over as they are much faster at transferring audio data to and from your computer. This reduces the latency on your audio interface by a few milliseconds.
So choose an interface that you can connect to your computer without any issue. Most of the audio interfaces in this article are USB compatible, though. So they will work with both Mac and PC.
Budget Audio Interfaces without Preamps
These are audio interfaces below the $500 price tag. They are all decent audio interfaces. Usually, the difference between a budget option interface and a mid-range audio interface is the number of inputs and outputs. If you simply want a one or two input interface to record vocals or a guitar, these options will work great.
Audient iD22
The Audient iD22 is an upgrade of their earlier model, the iD4. Audient has a reputation for its cleaner sounding Analog to Digital converters, its professional looking and rigid design, and for its price.
The iD22 has two combo input ports that you can plug a microphone or a TRS/TS jack into, just as you'd expect from a budget option audio interface. These combo inputs work with the built-in preamps, just as you'd expect as well.
This is where it gets interesting.
The Audient iD22 has two inputs labeled "Ret 1″ and "Ret 2″ meaning (Return 1 and 2). These inputs are strictly line-level inputs, and they are not routed through the built-in preamps. They are at unity gain and are not affected by the preamps gain structure.
When you record through the Return ports on the iD22, the signal goes through the conversion process straight into your DAW. This means there will be no undesirable coloration from Audient's preamps.
You can use these two jack inputs as two separate mono tracks or as a stereo pair.
The Audient iD22 is packed with a lot of useful features and that I will cover in another blog post. But in all, this is an excellent all-in-one audio interface.
Focusrite Scarlett 4i4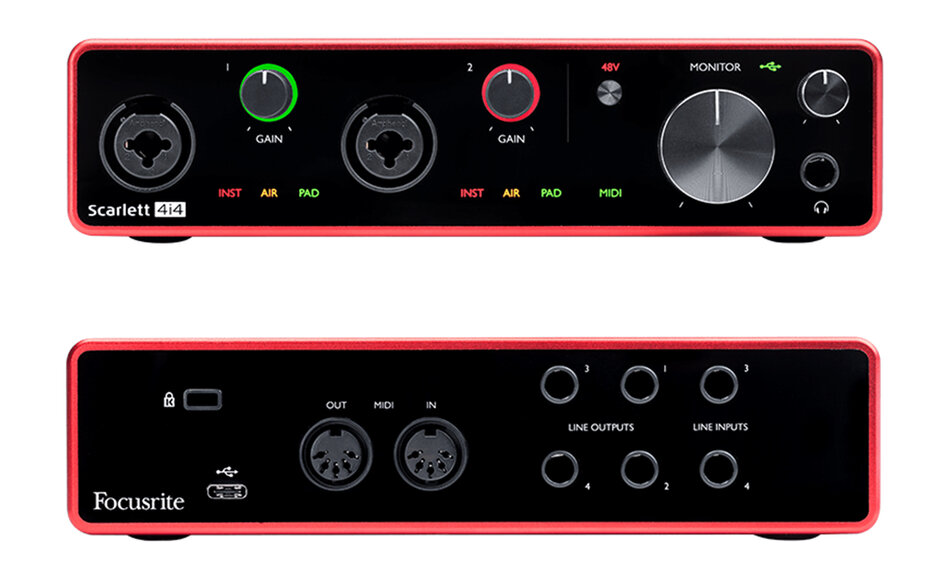 The Focusrite Scarlett series is, undoubtedly, the most popular audio interface series out there. That's because they are made for the beginner in mind, cheap, easy to use, and have decent preamps, which gets the job done most of the time.
I own the Scarlett 4i4, and I mostly use it live for running backing tracks and click/cues for the band's in-ear monitors. I've used it for years and haven't had any issue with it, whatsoever. It's always in my gig bag, and I love it.
Just as the name depicts, the Focusrite Scarlett 4i4 has four inputs and 4 outputs. Two of the inputs are combo inputs for connecting both XLR and TRS/TS cables. These inputs have the famous Focusrite preamps built into them.
At the back of the audio interface is the other two inputs. These are strictly line level inputs. These inputs are not affected by the preamps. So, any signal recorded through these two inputs is not colored or amplified by the Focusrite preamps.
If you are using an external preamp, connect the preamp's Line-Out to the Line input on the Scarlett 4i4 with a TRS or TS cable to record. The audio signal from the external preamp will not be degraded or altered by the audio interface's preamps in any way.
M-Audio Air 192|14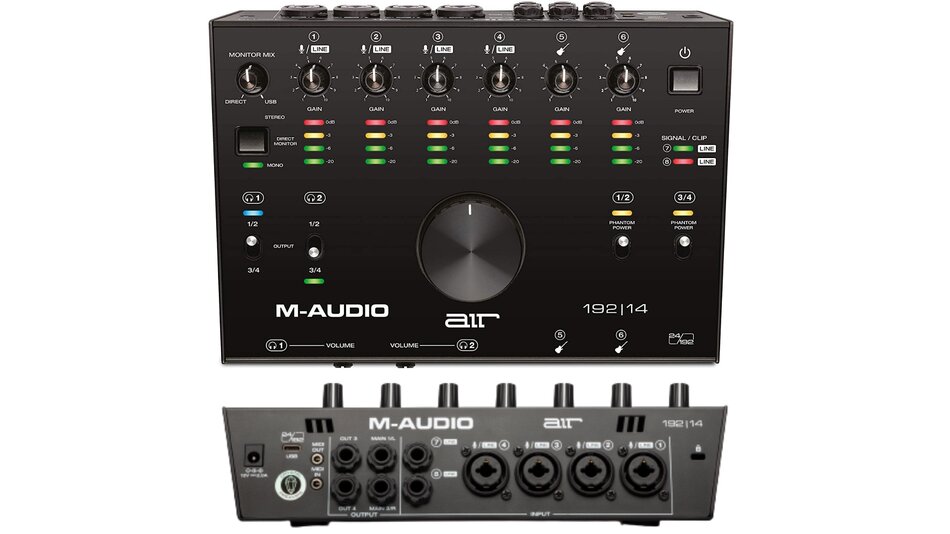 M-Audio is mostly known for its midi controllers, but they have done a great job with their Air series USB audio interfaces, I must say. They are gradually gaining popularity, and the Air 192|14 is an example of an excellent all-in-one audio interface at a competitive price.
The 192|14 has 8 inputs and 4 outputs. Four of these inputs are combo inputs with preamps that M-Audio advertises as "transparent crystal preamps," meaning they don't color your audio signal. As to whether that's true or not, I'm yet to put that to the test.
For the remaining four inputs, two are instrument level inputs for high impedance instruments such as a guitar. The remaining two inputs are line inputs. This is where you connect your external preamp and record directly to your DAW without any preamplification.
PreSonus Studio 1810c
The PreSonus Studio 1810c is one of PreSonus' best audio interfaces so far, especially for the price.
The Presonus Studio 1810c has 8 inputs and 6 balanced outputs. Four inputs are combo inputs, which you can plug XLR and TRS/TS cables into, as you would expect. All the combo inputs have preamps built into them.
The remaining four inputs are all Line Inputs without preamps. Four line inputs should be enough to record two vocals, a guitar, and a bass simultaneously from an external preamp. If four inputs are not enough, then check out the audio interfaces in the mid-range price.
Mid-Range Audio Interfaces without Preamps
All the audio interfaces in this section are between $500 and $1000. You should expect more inputs on some of these audio interfaces than on the budget options. You should also expect a better build quality and really great A/D converters as well.
MOTU 8A
MOTU has been in the audio industry space for a very long time. If you have used any of their interfaces before, then you probably know how transparent their A/D converters are. I love MOTU interfaces, to be honest.
The MOTU 8A has 8 inputs and 8 balanced outputs. All the inputs are line inputs, which means there are no built-in preamps in this audio interface. The audio signal from your instrument or microphone gets processed by the A/D converters and then recorded directly into your DAW. There is no preamp in the signal chain to color the audio in any way.
Another thing worth mentioning is, this audio interface can be connected to a Mac or PC using Thunderbolt, which is usually faster than USB. But it supports USB 3.0 as well if you don't have a Thunderbolt bolt on your computer.
MOTU 24Ai
Unlike the other audio interfaces we have already discussed, this audio interface doesn't have your conventional XLR or TRS/TS inputs. Instead, the MOTU 24Ai has a DB25 (or D-Sub) connector.
Each D-Sub connector on the Motu 24Ai accepts up to 8 line inputs, and there are three D-Sub connectors on this unit. This gives you a total of 24 line inputs on the MOTU 24Ai. Something worth knowing is this audio interface has no outputs on the unit itself. However, you can pair with another MOTU interface with outputs via the Optical I/O
There is no preamp built into the MOTU 24Ai, which means your inputs have to be on a perfect dB level. There is a digital mixer built into this, just as most MOTU audio interfaces, which you can access and control with any browser. This mixer allows you to mix and add effects to your channels before they are recorded in your DAW.
You can connect this to your Mac or PC via USB or AVB Ethernet.
High-End Audio Interfaces without Preamps
All the audio interfaces that will be mentioned in this section are $1000 and above. These are some of the best audio interfaces money can buy. You should expect even more inputs on some of these interfaces, overall build quality, and excellent A/D converters.
MOTU 16A
If the 8 line inputs on the MOTU 8A wasn't enough, then you need the MOTU 16A.
The MOTU 16A has 16 line level inputs and 16 balanced outputs. There are no preamps built into this unit, which is great if you are looking to record an already hot signal from an external preamp or effect. The 16 outputs can be used for monitoring or routing audio from your DAW to outboard gear.
If the analog inputs on this device are not enough, you can expand it with ADAT. There are two pairs of ADAT ports. Each ADAT pair will give you 8 additional inputs and 8 outputs. So two pairs of ADAT, when used, will provide you with additional 16 inputs and 16 outputs, giving you a total of 32 inputs and 32 outputs. That will be more than enough inputs and outputs to record a full band.
Just like any other MOTU audio interface we have already discussed, there is a built-in mixer on the MOTU 16A for mixing and routing inputs and outputs before they are even recorded into your DAW. This can help in freeing up processing power on your computer.
You can connect the MOTU 16A to your computer using Thunderbolt or USB
RME Fireface UFX+
RME Audio has been an industry-standard audio interface manufacturer for many many years. The UFX lineup is RME Audio's Flagship audio interface, and they are, by far, one of the best audio interfaces money can buy. It's a beast of a device.
On the unit itself, you will get 12 inputs, and 8 outputs, all balanced. 4 of those are combo jack inputs that accept Mic, Line, and Instrument level inputs. These four inputs have preamps built into them. However, the remaining eight inputs are strictly line level inputs with no preamps. All the line inputs are at unity gain.
You also get two pairs of Optical (ADAT) inputs and outputs. This can get you additional 16 inputs and 16 outputs when in use.
Another handy feature on the RME Fireface UFX+ is, you can plug in a USB flash drive directly inside the unit and record all your input and output audio signals. This comes in handy when you don't have your computer with you, and you need to record something on the go.
RME also has a mixing software for its audio interfaces called TotalMix FX. You can do some pretty wild stuff in this software. You can create separate monitor mixes for each band member, route an audio signal from your DAW through one of the audio interface's output, and send it to outboard gear, add FX, and much more.
If you are really serious about recording, I highly recommend the Fireface UFX+ from RME Audio. It's a complete and premium audio interface for the studio. Keep in mind; this is a high-end audio interface.
PreSonus Quantum 4848

The PreSonus Quantum 4848 was made primarily for recording engineers who still use analog consoles and outboard gears. It's an excellent audio interface that bridges the gap between analog and digital.
On the unit, you get 32 analog line level inputs and 32 outputs. All of the inputs and outputs are DB25 line level connectors. There are no preamps built into the PreSonus Quantum 4848.
The DB25 connectors make it easy to connect your vintage gear to the interface and record with a DAW. The output channels are great for mixing out of the box because you can send audio from your computer to your external effects.
With the two pair of Optical I/O, you can have additional 16 inputs and outputs by connecting another audio interface or preamps to the PreSonus Quantum 4848
Unfortunately, this device can be connected to a computer via Thunderbolt only, unless you use a Thunderbolt adapter.
Conclusion
I hope this helps you in choosing an audio interface that fits your needs and budget. Share this if you found this useful.