Although there are Digital-to-Analog converters (or DACs) built into audio devices such as integrated amps, DVD/CD players, smartphones, and even computers, they are not as great sounding as dedicated standalone DACs. And if you're an audio enthusiast or consider yourself an audiophile, you probably know this too.
So in this article, we're going to talk about DACs. And not just any DACs, but DACs with XLR output.
As you may already know, most DACs come with either 1/4 "or RCA outputs. However, RCA or 1/4 "audio output is not an ideal choice for those who use amps or speakers with balanced XLR inputs. After hours of research and making enquiries, here are six of the best DACs with XLR outputs I found.
Things to Consider When Choosing a DAC
Before you decide to purchase a DAC, there are a few things you should consider.
Types of Inputs and Outputs
One of the first things to look for when purchasing a DAC is the type of input and output ports it comes with. This is critical because you want a DAC that will work well with the audio equipment you already have.
For instance, if you'll be connecting your DAC to a computer, you should get a DAC with a USB input. If you'll be using it with a DVD/CD player, a DAC with a coaxial input is certainly ideal.
Similarly, if you'll be using a power amp with XLR inputs, a DAC with XLR outputs will be the most convenient option. If you are using it with active speakers with ¼" inputs, a DAC with ¼" ports will be an excellent option.
One thing that's certain for sure is, all of the DACs that will be discussed have stereo XLR outputs. But we'll still talk about the outputs and input options for those who care.
Features The DAC Comes With
The type of features that DACs come with is another factor that most people consider when choosing a DAC. And you should do the same. DACs come with different features and options that suit various musical needs.
For instance, some DACs come with Bluetooth connectivity; some support more complex audio formats while others don't. Some come with remote control and volume knobs on the device itself. Some DACs may also have a built-in headphone amp which means, you can plug a headphone directly into the unit.
These are all little quirks and features that may be important and useful based on your needs. And these are some of the features that put some DACs ahead of others in terms of preference. However, keep in mind that these extra features drive the price of DACs up as well.
Ease of Use and Setup
Some DAC models allow you to simply plug in and start using them. However, most DACs require that you configure the settings and make adjustments on the music player or PC before you can obtain the best out of your sound.
The good news is, some of these DACs require only a few simple steps to get your system up and running. However, others demand technical configurations before being used. Thus, the ease of properly setting up, configuring, and integrating your DAC with your music system is another factor people look at before choosing a DAC.
If you consider yourself technical or can read the manual and follow instructions on setting up a DAC, this will not be an issue for you. But if you're the type of person that wants to be able to plug in a device and start using it right away, then going for an easy-to-setup DAC is definitely something to consider.
Budget
The prices of DACs on the market vary significantly. And take it or leave it, that will definitely influence the choice of DAC you go for unless, of course, money is not an issue for you.
DACs with many different types of inputs and outputs and several unique features are quite expensive. And the more features you need in a DAC, the more money you'll have to spend. This is certainly something you need to keep in mind so that you can set a reasonable budget for the choice of DAC you're looking to buy.
Cambridge Audio DacMagic 200M
Cambridge Audio is, without a doubt, one of the most reputable audio brands on the market. So certainly, it comes as no surprise that the Cambridge Audio DacMagic 200M (on Amazon) made it to this list.
The DacMagic 200M comes with numerous options for digital input. They include; 2 coaxial digital inputs, two optical digital inputs, and a USB Type-B input as well. It has RCA phono and XLR outputs as well. This DAC weighs about 1.2kg and comes with Bluetooth (aptX) connectivity as well.
It is designed and equipped to effortlessly pair with any desktop or hi-fi system. The Cambridge DacMagic 200M also comes with three switchable filters that provide you with the option of choosing between slow, fast, or short delay sonic options.
The Cambridge Audio DacMagic 200M gives a clean, smooth sound with precision timing and with zero noise output. This is one of the best DACs you can get for the price range it is offered at. It is built to have several useful features fused into its attractive package.
This DAC is simple to use. Therefore, this DAC is a great option if you are looking for great sound with no unnecessary complexities.
Unlike some of the other DACs I'll talk about in this list, the Cambridge Audio DacMagic 200M has no remote control. Although the exterior design of a DAC matters to only a few users,
This DAC has a boring design as well. The design comes with little flair or finesse. Also, the three filters it comes equipped with add virtually no audible difference to the sound. Most people who use this DAC have also made mention of this.
However, the Cambridge Audio DacMagic 200M produces high-end sound at an affordable price. Thus, buying it will be money well spent for the price at which this DAC is being offered.
Topping DX7 Pro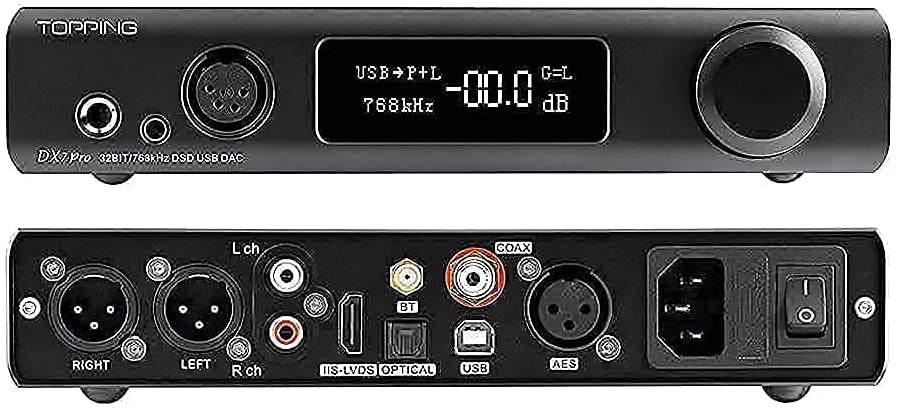 Topping has consistently proven itself when it comes to DACs. And the DX7 Pro is no exception. They have the EX series DACs and the DX series DACs which include the DX7 Pro. Let's first talk about the features of the DX7 Pro.
The Topping DX7 Pro (on Amazon) is built with an ES9038PRO DAC chip. This DAC has been engineered to have virtually all you would desire in a DAC. It has an elaborate design and weighs about 1.4 kg.
The Topping DX7 Pro offers a great variety of outputs and inputs. These outputs include headphone out, RCA line out, and XLR line out. This device having a headphone out means there is a headphone amp built into this DAC. And the amp is powerful enough to drive most consumer headphones.
The headphone output is available in both 1/4 inch headphone output form and a balanced headphone output form.
The digital inputs available on this device include; USB, OPT, AES, COAX, and IIS. This device has been incorporated with a 5.0 Bluetooth functionality as well. Additionally, this device supports aptX, aptX HD, and LDAC HD audio for those who care.
Also, this DAC comes with a headphone amp which can drive most headphones. It comes along with a remote control which makes it easier to use or control the device.
The Topping DX7 Pro has a simple and elegant look. It is small and lightweight. Despite its small size, it has a great build quality and great audio capabilities. It gives a great sound performance. You can use this device as either a pure DAC, a DAC, or as a Pre Amp combo.
Unfortunately, you can find it difficult to access some of the menu options if you do not use the remote control. Also, the headphone output impedance of this DAC tends to be relatively higher than most of the DACs in the list.
That notwithstanding, overall, this device produces a great performance in all aspects. Therefore, for the price, this DAC is definitely worth purchasing.
Topping EX5
The Topping EX5 has been engineered to function as a combination of a DAC and headphone amplifier. And you can also look at it as the budget option of the Topping DX7 Pro. This DAC is fused with features that are usually found in only larger stacks. The device comes with a USB input, optical input, coaxial input, and a 5.0 Bluetooth input as well.
The Topping EX5 (on Amazon) has three output options. These are a quarter-inch headphone output and both 4-pin balanced and single-ended XLR outputs, which you probably need more than the other outputs. It comes with a digital volume adjustment chip, and an MQA LED indicator as well.
This EX5 also comes with remote control. The remote control allows a user to access all menu options present. You can only change the output mode, mute the device and control the brightness using the remote control.
Like the Topping DX7 Pro, the EX5 has a simple and nice design. This device is also quite small and lightweight. Though this DAC is relatively small, it comes with many input options that can be found in most DACs, making it an excellent compact DAC for traveling purposes.
This DAC has a stable Bluetooth connection and produces a quality sound that is enjoyable to the ear. The digital volume adjustment chip it comes with makes it easier to track the volume level between the left and right channels.
One downside of the Topping EX5, according to many of its users, is that this DAC generates lots of heat when it's on standby. Also, you have to depend on the remote control to change lots of the settings.
This will not be an issue if your room is well ventilated and you often don't tamper with the settings. Overall, this is a great budget-friendly DAC I'll definitely recommend.
RME ADI-2 DAC FS
RME is a German audio equipment manufacturer that is known for producing high-quality products with premium performance. If you've been in the audio space for a while, I'm sure you've certainly heard of the RME brand. And the ADI-2 DAC FS is one of their best products.
The RME ADI-2 DAC FS (on Amazon) is a studio-quality 2- channel DAC. It comes with a remote control that allows you to control volume, adjust bass, balance, treble, select input, and many more. This DAC has a headphone amp built-in as well and offers a high-resolution playback of DXD, PCM, and Direct Stream Digital (DSD) of up to 768kHz.
This DAC is extremely lightweight and weighs only 1.0 kg. This makes it a great option if you're looking for a portable DAC. The ADI-2 DAC FS also has a feature known as the SteadyClock FS. This is a unique feature that reduces signal noise. And you won't find this feature in many DACs
It has both coaxial and optical inputs and extreme power stereo headphones with a 6.35 mm output jack. It also has two unbalanced RCA line outputs and two balanced XLR line outputs.
This DAC has a built-in crossfeed and DSP with EQ. For those who don't know what crossfeed is, it's a feature for headphones that blends the left and right channel audio in a way that simulates an actual speaker. When you use the crossfeed feature on the RME ADI-2 DAC FS, your headphones will sound more natural, like you're listening on a pair of speakers. Really cool
Most RME DACs, including this one, are very easy to use. Another useful feature of this DAC is its amazing display. The display gives you a visual representation of whatever settings you're adjusting in real-time. And that makes this DAC very intuitive and easy to use.
The quality of audio produced by this DAC is detailed and intricate. As I mentioned earlier, RME audio is known for making studio-quality devices with premium performance. So you should expect a high-quality audio output from this DAC.
The few downsides of the RME ADI-2 DAC FS are that it has a complex menu system that depends on multiple unintuitive controls to navigate. And this is because of its numerous features.
It might take a while to get used to it. In my opinion, that's not a deal-breaker. Also, it doesn't support Bluetooth.
The price of this device is very competitive for a high-end DAC like this. And overall, it is one of the best DAC you can purchase.
Sabaj D5 Audio DAC
The Sabaj D5 Audio DAC (on Amazon) is another budget-friendly DAC on this list. This device can function as both a DAC and a headphone amplifier. It has both 1/4″ headphones out and a balanced 4-pin XLR headphone out at the front. And at the back of the device is a stereo XLR output and a stereo RCA output.
In terms of inputs, it has coaxial, HDMI, USB, and Optical inputs. It has a balanced XLR line out and an RCA line out as well. I.
The Sabaj D5 gives excellent performance with detailed and rich sound production. It provides balanced outputs which help in integrating with all audio systems. Overall, this DAC is a great DAC/Amplifier combined in one unit.
The remote control it comes with makes this DAC very convenient to use. It allows you to control all functions, including turning the system on and off. The remote control looks similar to the Topping remote control but with different labeling.
However, I wouldn't recommend this for those who will use this mostly for headphones. That's because the headphone amp section sounds a little mushy. The headphone amp does not provide a loud soundstage like other devices.
But all the other outputs, including the XLR outputs, work flawlessly and are great. Overall, it's a great DAC that gets the job done for many of its users.
S.M.S.L SU-9
The S.M.S.L SU-9 (on Amazon) is an upgrade to the SU-8 DAC. It is built with the top-performance D/A ES9038PRO chip. This DAC features a black aluminum case, having a 1.9-inch LCD screen in front and an aluminum knob. This device has a functional and straightforward remote that can be shared between SMSL devices.
This S.M.S.L SU-9 has balanced outputs. It has an RCA output in addition to the XLR output.
When it comes to inputs, it has USB, Coaxial, Optical, and Bluetooth inputs. All the digital inputs of this device support DSD decoding and streaming. This device supports APTX/ LDAC/ HD, XBC, and AAC formats. It provides full Master Quality Authenticated (MQA) decoding as well.
When it comes to audio quality, the S.M.S.L SU-9 performs exceptionally. This device comes with great options and features as well. It has a terrific screen and provides Master Quality Authenticated (MQA) conversion for a great price. Thus, when you need an affordable DAC that is capable of handling and converting MQA files, you should go for the S.M.S.L SU-9.
This DAC supports audio formats with high resolution. It delivers a transparent and smooth sound with no noticeable signal loss. The device also supports all formats of Bluetooth.
One negative thing about this DAC is its design. It is designed to have only three rubber feet underneath. This makes it unstable and wobbly. It also generates annoying sounds whenever it is housed on any surface. Also, its menu system may seem overwhelming at first if you are not familiar with it.
However, the S.M.S.L SU-9 is a terrific machine. It works perfectly with many audiophiles and systems. So if you are running on a budget, you should definitely consider the SMSL SU-9.
Conclusion
DACs are one of the easiest ways of improving your digital music. As a music enthusiast, you should use the best DAC for all your setups. Doing so will transform your favorite music into a musical masterpiece.
All the DACs I have talked about in this article are of great quality and deliver excellent performance. These DACs have their strengths and weaknesses as well. However, their strengths greatly outweigh the weaknesses I have mentioned in this article. Therefore, go ahead and pick one that meets your musical needs.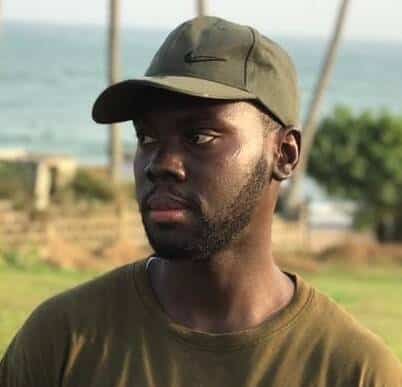 Hello, I'm Elijah. A writer on Geek Musician, based in Ghana-West Africa. I am a writer with a passion for research and reading. I usually spend my free time playing chess or watching movies. For more info, check out my about me page. Or read more of my articles here.