Two of Korg's most talked about synthesizers are the MicroKORG and the Minilogue. These are very capable synthesizers, and many synth lovers have either the MicroKORG or the Minilogue in their synth collection.
This article will be my candid review of these two synths for those of you still looking to buy either the MicroKORG or the Minilogue. And also, I'll help you decide which synthesizer is best for you and your synthesizer needs.
What's the main difference between Korg MicroKORG and Minilogue? Korg MicroKORG has a lot more features, which makes it a more powerful synthesizer than the Minilogue. However, it is difficult to program and edit sounds on the MicroKORG. On the other hand, the KORG Minilogue is an easy synth to program and tweak sounds because it has dedicated knobs per function. That makes the Minilogue a good choice for beginners who want to learn synthesis.
Before we dive deep into the review, let's take a look at the side by side comparison of the MicroKORG and the Minilogue. That's because they will serve as the basis for everything I'll talk about.
Side by Side Comparison of Korg MicroKORG and Minilogue
| | Korg MicroKORG | Korg Minilogue |
| --- | --- | --- |
| Sound Engine | Virtual Analog (Digital) | Analog |
| Number of Keys | 37 | 37 |
| Type of Keys | Mini-Keys, Velocity Sensitive | Slim Keys, Velocity Sensitive |
| Polyphony | 4 voices | 4 voices |
| Presets | 128 factory presets, no user presets | 100 factory presets, 100 user presets |
| Oscillators | 2 Analog VCO (square triangle, sawtooth, sine, Vox wave, 64 digital waveforms), 1 Noise Generator & 1 LFO | 2 Analog VCO (square, triangle, and sawtooth wave) & 1 LFO |
| Filter | 1 Filter (2/4-pole low pass filter, bandpass filter, high pass filter) | 1 Filter (2/4-pole low pass filter) |
| Effects | 7 (Chorus, Flanger, Phaser, Delay – 3 Types, 2-band EQ) | 2 (Delay, Analog Drive Distortion) |
| Sequencer | No sequencer | 16-step polyphonic sequencer |
| Audio Inputs | 2 ¼" TRS (Audio In), 1 ⅛" input | 1 ¼" TRS (Audio In), 1 ⅛" (sync in) |
| Headphones | 1 ¼" stereo jack | 1 ¼" stereo jack |
| USB | No USB port | 1 USB Type B port |
| MIDI I/O | In/Out/Thru | In/Out |
| Other | Pitch bend, mod wheel, LED Screen, Vocoder | Slider, OLED Oscilloscope Screen |
| Power Supply | 9V DC Power Supply + Battery Powered | Standard IEC AC Cable |
| Weight | 4.85 lbs | 20.06 lbs |
| Price | Check Price on Amazon | Check Price on Amazon |
Korg MicroKORG Review
If you took a closer look at the side by side comparison, then you know for a fact that the MicroKORG is a much powerful synthesizer compared to the Minilogue.
The truth is, many MicroKORG users, including myself, have barely scratched the surface of what this synthesizer can do. That's because a lot of people bought it for the factory presets. However, there are so many sounds that can be made with the MicroKORG that most are not aware of. I'll explain why I've not fully harnessed the capabilities of this synth later in this review.
Let's first talk about the oscillators. The MicroKORG has two oscillators — OSC1 and OSC2. OSC1 provides you with so many waveforms. Let me explain. Besides the four basic waveforms (sine, triangle, sawtooth, square), there is also a vox wave and 64 additional digital waveforms.
These digital waveforms come from Korg's classic digital synthesizer, the DW-8000. If you are a synth nerd or an experienced sound designer, you can alter these digital waveforms to get a pulse width modulation of FM synthesis type of sound. And with 71 different waveforms, there are so many sounds you can make out of this small synthesizer.
Another feature about the MicroKORG worth mentioning is the ability to layer or two presets. This means you can load two different sounds on the MicroKORG and play them together. You can really achieve some very unique sounds by layering two completely different sounds.
However, you need to keep in mind that this is a 4-voice polyphonic synthesizer. This means the synth can play four notes at a time. This is very limiting if you are used to playing big chords because four notes simply aren't enough. And when you layer, the MicroKORG can only play two notes at a time. That's because the polyphony is shared between the two presets.
You'll also get a total of seven audio effects on the MicroKORG to further spice up your synth patches. That comes in very handy and gives you more flexibility. That's because many synthesizers come with an average of three effects.
There is a chorus, phaser, and flanger, which are all modulation effects. And then, there are three different types of delay effects. Lastly, there is a 2-Band EQ effect.
I got blown away when I saw a video on Synthtopia of someone using the MicroKORG's effects on a guitar. This means you can use these effects on anything you plug into the MicroKORG's audio inputs.
Another thing I love about the MicroKORG is that, because it has been around for a long time, you can find a lot of patches created by other MicroKORG users. So if you don't find the factory presets interesting anymore, you can certainly replace them with new presets you can download on the internet.
Now that I've talked about my favorite things about the Korg MicroKORG let me talk about what I honestly don't like about it.
The first thing I don't like about MicroKORG is there are no user banks. Korg didn't provide any extra space on this unit to store your custom presets. To store a preset, you'll have to overwrite one of the factory presets. And that is such a pain because I really enjoy the factory presets.
However, Korg fixed this problem with their latest version of MicroKORG — the MicroKORG S (on Amazon). The MicroKORG S comes with all of the features of the original MicroKORG, but the preset slots have been increased.
It comes with all of the factory presets of the original, plus 64 more presets. And then, there are 64 free slots to store your own made presets. There is also a built-in speaker. However, just know there are no free preset slots on the original MicroKORG
The major thing I don't like about MicroKORG is, it's very hard to program or edit sounds. Here is why.
Unlike many traditional synthesizers, the MicroKORG lacks a lot of knobs, faders, and buttons needed to program sounds easily. There are a total of seven knobs used to control the MicroKORG's synth parameters, which is simply not enough for its features.
To program or edit sound on the MicroKORG, you have to make use of the Edit Matrix. The Edit Matrix of the MicroKORG is essentially a way for you to access the synth parameters and tweak them. This means you have to menu-dive in order to create or edit sounds.
Even for a synth nerd like myself, I find the Edit Matrix on the MicroKORG such a pain. That's because I've always loved to create sounds on synths the traditional way without having to go through any menu. Going through a big list of Menu just to tweak sounds is such an uninspiring process.
I've used the MicroKORG for years; however, I'm still not conversant with the Edit Matrix. Because I simply don't enjoy creating sounds on a synth this way. That is why I mentioned earlier that I've barely scratched the surface on this synth.
As I explained in my article on MicroKORG for beginners, I wouldn't recommend it to anyone who wants to learn synthesis because it will be a painful process on the MicroKORG.
However, keep in mind that this is my personal experience. Many other MicroKORG users have taken the time to learn MicroKORG's Edit Matrix and enjoy making sounds on the synth.
Pros
Built-in vocoder
7 Audio Effects
Portable
Battery Powered
Cons
It's not intuitive to create and edit sounds
No space to save custom presets
Korg Minilogue Review
Technically, the MicroKORG is more powerful than the Minilogue, but the Korg Minilogue is also a beast of its own. It has gained a lot of traction since it got released in 2016. Many synth enthusiasts were blown away by the price (check price on Amazon) and functionality.
Let me talk about a few similar features the Minilogue has with the MicroKORG, some of its unique features, and my favorite things about this synth.
The Minilogue is also a 4-voice polyphonic synthesizer, just as the MicroKORG. This means you can play up to four notes on this synth. There is also a Dual (or Layer) mode that allows you to play two different sounds together. Similar to the MicroKORG, you can play only two notes when you layer two sounds together.
The Minilogue also has two oscillators. And each oscillator has three waveforms to choose from — triangle, sawtooth and square wave. Each oscillator has its own waveshaper knob that allows you to change how each waveform sounds. That's handy.
A unique feature you'll get on the Minilogue but not the MicroKORG is the sequencer. In all honesty, it is one of the easiest step sequencers I've used on a synthesizer. Not only does the step sequencer allow you to record notes, but you can also record the knob and switch changes into a sequence. Korg calls this the motion sequencer.
Your sequence will be played back with all of the synth parameter changes you made, sort of like automation in a Digital Audio Workstation. That's a really cool feature, especially for making lush sounding motion pads.
The major thing that makes the Minilogue such a great synth is, it has a dedicated knob or switch for every synth parameter, popularly known as knob per function. On the panel, you'll find that there are so many knobs and switches carefully laid out in a way that makes a lot of sense.
All the parameters you need to tweak are right in front of you, and you don't need to dive into menus to find anything. This makes the Minilogue is such an easy synthesizer to program and have fun with. There is no stress in going through a big list of menus to find a parameter and edit.
This also makes the Minilogue a beginner-friendly synthesizer. In fact, many synth reviewers recommend it as the best synthesizer for beginners, and I couldn't agree more. It's an excellent synthesizer to start with because it will make it extremely easy to learn synthesis and comes at a great price.
Another thing I like about the Minilogue is you will get 100 blank preset space to save your own custom presets. This means you don't need to overwrite the factory presets if you enjoy them.
And oh, one more thing — The Korg Minilogue's screen is really useful. This is a very high-resolution OLED screen that has many functions.
Firstly, it displays the name of your presets as you browse through them. Pretty basic. Secondly, the screen helps you access advanced features on the Minilogue.
However, what makes this screen stand out is its ability to display visually the waveform of any sound you are playing. For instance, when you are playing a simple sawtooth wave, it displays a sawtooth on the screen. Any synth parameter changes that affect the sound or waveform will be displayed, in real-time, on the screen.
This is a pretty handy feature, once again for beginners. It really helps you learn and understand synthesis much faster than just listening for changes with your ear. That's because you get to visually see what is happening to the sound.
As you can already tell, there are many things I like about this synthesizer. However, there are a few things I think could have been better.
Firstly, although many of the synth parameters have dedicated knobs and switches for easy access, some advanced features can only be accessed by going through menus.
You still have to dive through menus in order to tweak the sequencer, access the performance features or the different voice modes. You can do a lot more things when you dive into the advanced menus of the Minilogue.
Although it is quite easier to menu-dive on the Minilogue due to the OLED screen, it still sucks knowing many of this synth's features can only be accessed by menu-diving. It kinda beats the purpose of a knob-per-function synthesizer.
It would have been great if the Minilogue was battery-powered as well. It will be really fun to take it with you wherever and jam.
Pros
Dedicated knob per function
Easy to program and edit sounds
Motion sequencer helps bring movement to sound
OLED Screen helps visualize sound
Affordable analog synth
Cons
Menu-diving to access advanced features
Not portable
Which One is Best for You? My Opinion
Maybe you are someone who knows how synthesizers work and know what all the different synthesizer functions do. Or perhaps you already own a couple of synthesizers, or maybe you are an experienced sound designer. If that's the case, then Korg MicroKORG is a great tool to add to your arsenal.
That's because it's packed with a lot more features, which means you can come up with a lot more unique sounds on it. It will take a while to learn MicroKORG's Edit Matrix. However, since you already know synthesis, it will be easier to understand.
However, if you are a beginner who wants to learn synthesis, or maybe you want to buy your first synthesizer, then the Korg Minilogue is a great choice for you.
The Minilogue is a synthesizer that's effortless to learn and understand. And it's very easy to tweak sounds much faster. The OLED screen is also such a great educational tool on the Minilogue. That's because it will help you understand the different waveforms and what happens visually when you tweak sounds.
Once you learn and understand synthesis, you can pick the MicroKORG later along the line. But don't pick it up as your first synth.
Conclusion
In summary, the Korg MicroKORG is good for experienced synth players and sound designers, and the Minilogue is a good synthesizer for beginners.
I hope this article helped you make a decision on which synth to buy. If you enjoyed this article, kindly share it with a friend. Thanks.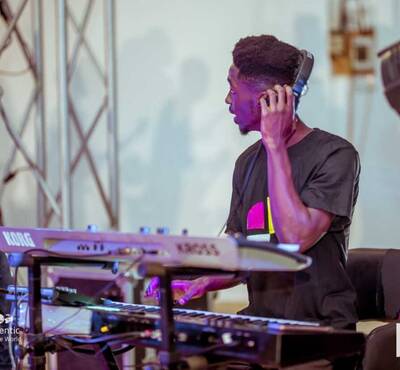 Hi, I'm Raymond. A keyboard player, music producer, and writer. And I'm also the founder of this blog. As someone who has been working with several audio and music equipment and different musicians for many years, my goal is to answer all your questions on music and equipment, as well as the latest music software and technology. For more info, check out my about me page