Compression is a very useful tool for some audio engineers when they are recording. Some prefer compressing vocals, drums, or the bass guitar before the audio signal gets to the Digital Audio Workstation (or DAW).
Unfortunately, there are not many audio interfaces with built-in compressors. This is not to say they don't exist. They do exist. But compression is not a standard feature built into many audio interfaces.
So in this article, we're going to take a look at five of the best audio interfaces with built-in compressors. If this is something you're interested in, then let's get into it.
TASCAM US-16×08

TASCAM US-16×08 (on Amazon) is certainly an audio interface to consider if you record bands, podcasts, or have many instruments. It has 16 inputs that are enough to simultaneously record drums, keyboards, guitars, and vocals. It also has eight outputs which come in handy when you want to provide a separate for each band member.
The great thing about this audio interface is that it has an onboard Digital Signal Processor (or DSP). On each channel, you get a 4-band EQ and a compressor. And it comes with a resolution of up to 24-bit/96kHz
4 of the 16 channels can supply +48V phantom power, which means you can use up to four condenser mics with this interface. Input channel 1-8 has built-in Ultra-HDDA (High Definition Discrete Architecture) microphone preamps, and input channels 9-16 are line-level inputs.
Setting up this audio interface is quite easy, and it is compatible with Windows, Mac, and even android iOS devices.
The TASCAM US-16×08 is a versatile 16-input and 8-output USB 2.0 audio interface. It offers you a 4-band EQ and compression on each input channel. It comes with a resolution of up to 24-bit/96kHz.
This device is built to have an Onboard Digital Signal Processor (DSP), which handles essential effects and processing. It has 16 input channels, eight quarter-inch balanced outputs, and a quarter-inch stereo headphone out. Eight of its input channels are Ultra-HDDA (High Definition Discrete Architecture) mic preamps, with the other eight being line-level.
As you can see from its picture, this is a rack-mountable audio interface with an excellent build quality.
When the TASCAM US-16×08 was released, it had many driver issues, which led to DAW crashes, audio interruption, and high CPU. This was an issue, especially for Windows PC users. But over the years, after numerous software and driver updates, this is no more an issue.
TASCAM released Settings Panel 4.00, a driver update in 2020. And since then, all the problems users have had with this audio interface is an issue of the past. So I can definitely recommend this to anyone on a budget looking for a 16-input audio interface with built-in compressors.
Behringer XR18
Behringer XR18 (Amazon) is a full-featured digital mixer with a built-in audio interface. This means you can use it for live purposes and in the studio. And this, in my opinion, makes this XR18 versatile and one of the best options on this list.
It has 18 input channels, stereo main output, and six auxiliary outputs. 16 of the 18 input channels have a microphone preamp. And because it is built to work as a digital mixer, it has a very powerful DSP. A low cut filter, gate, compressor/limiter, and a 4-band parametric EQ is on each input channel.
And when you connect the Behringer XR18 to a computer, it becomes an 18 x 18 (18 inputs, 18 outputs) audio interface. This means you can record all of the input channels on XR18 directly into your computer.
As you can see from the photo, the XR18 has no knobs and faders on the unit itself. You'll need a computer, iPad, or a smartphone (which we all seem to have) to gain access to the controls on this digital mixer. Behringer made it this way to reduce the final product cost.
You'll need to connect the digital mixer and your control device to the same WiFi in order to fully control this mixer.
Although the Behringer XR18 has built-in WiFi, it's not great at all. So if you plan on going for the Behringer XR18, I highly recommend you purchase an external router for it. I have a dedicated article on some of the best wireless routers for digital mixers. Feel free to check it out
Overall, the Behringer XR18 is a digital mixer/audio interface I won't hesitate to recommend. It's an excellent budget-friendly digital mixer for bands and a great audio interface for the studio.
Steinberg UR44C
Steinberg audio interfaces are one of the most sought-after audio interfaces on the market, and the Steinberg UR44C clearly shows why this is so. You'll understand why in a moment.
The Steinberg UR44C (on Amazon) is a 6-channel audio interface. 4 of the six inputs feature a class-a D-PRE (Discrete Class-A Mic) preamp, which is known to capture all the fine little details in a performance. The same four inputs can be supplied with +48V phantom power in situations when you're using condenser mics.
The two remaining inputs are line inputs which are found at the back of the unit.
Like the other audio interfaces we have discussed so far, the Steinberg UR44C also has a built-in onboard DSP. You'll get an EQ and compressor on each channel on this interface. And there are effects like reverb. Guitar amp classics and more. I don't know if you'll ever use a guitar amp effect provided by an audio interface. But it's there in case you need it.
You can use the Steinberg UR44C with your mobile devices as well as Windows PC or Mac. And it integrates easily with Steinberg's proprietary DAWs like Cubase and Nuendo. Regardless, it works in other DAWs as well.
This audio interface can handle both mobile and home recordings and has an A/D resolution of 24-bit/192kHz.It has USB 2.0 connectivity and is compatible with iOS as well.
One thing I like about this audio interface is that there is a mixer built into this audio interface which can be accessed by an app called dspMixFx. This allows you to provide great-sounding monitor mixes to the musical performers. Not many people use this feature, but it's quite useful.
The only issue I found on forums about this audio interface is that setting it up for the first time can be quite challenging compared to the other interfaces on this list. This doesn't mean it's impossible. Obviously, people are using it and are quite impressed by its performance. It's something to be aware of if you decide to go for this audio interface.
For the price and all the features it comes with, the Steinberg UR44C is definitely worth considering.
Roland Octa-Capture
Although Roland is popularly known for its keyboards and drum pads, the Roland Octa-Capture has gained some popularity over the years.
The Roland Octa-Capture (Amazon) also has eight input channels. All of these inputs have combo jacks with a built-in microphone preamp. As a bonus, there are two additional coaxial digital inputs. This makes this audio interface ideal for recording podcasts with multiple guests, recording drums, instruments, and more.
With eight output channels, you can have different headphone mixes for performers. And in addition, there are two additional coaxial digital outputs and a headphone out as well.
Right on the unit is a very useful LCD. With this LCD, you can choose any of the inputs, adjust its preamp gain, supply phantom power, change its phase, or apply compression without the need to use the software.
But if you love to have access to more features, you'll have to use the Control Panel software made for this interface. There are lots more cool things you can do with it as well.
If you're worried about latency, then worry less. That's because Roland has many musicians as their employees. So they know how latency sucks while recording. So this unit was built to have zero latency.
And to even take it a step further, the Roland Octa-Capture has a feature called VS Streaming. This allows you to have up to four ultra-low latency monitor mixes with high-quality sound output.
I didn't come across any known issues with this audio interface other than a few software update issues. But that is always addressed with the next software update. Roland is a great company when it comes to software updates.
Overall, the Roland Octa-Capture audio interface has a solid and great build, is portable, sounds great, and gets the job done.
Focusrite Scarlett OctoPre Dynamic
If you already own an audio interface with an ADAT input, then you might want to consider the Scarlett OctoPre Dynamic over the other options on this.
The Focusrite Scarlett OctoPre Dynamic (Amazon) is an upgrade of the Scarlett OctoPre. This device is an 8-channel microphone/line preamp. One thing to note is that this device is not truly a standalone audio interface. It functions as an expansion unit that has to be integrated with your existing audio setup.
This Focusrite Scarlett OctoPre Dynamic has eight ins, eight outs. All inputs have built-in award-winning Focusrite mic preamps that people have grown to love. Every channel can be supplied with phantom power.
And on every input channel is a very flexible analog compression. This allows you to apply compression on every channel quickly.
The Focusrite Scarlett OctoPre Dynamic offers quality conversion as well as great expansion capabilities. It has a great build quality, is rack-mountable, and with a clean layout. As you would expect from any Focusrite audio interface, the preamps are very silent and clean. It produces transparent sounds with lots of headroom.
The ADAT outputs it comes with enable you to easily connect any digital system or interface with ADAT optical inputs. Overall, it is an excellent and solid expansion unit. It is quite easy to set it up and use.
Final Words
All of the audio interfaces mentioned in this article are not in any particular order of quality or importance. All of the devices mentioned have a built-in compressor, which was the main point of this article.
The option you go for ultimately depends on the number of inputs and outputs you need, your budget, and the features you are looking to find in an audio interface. If you found this useful, don't hesitate to share it with a friend or a group.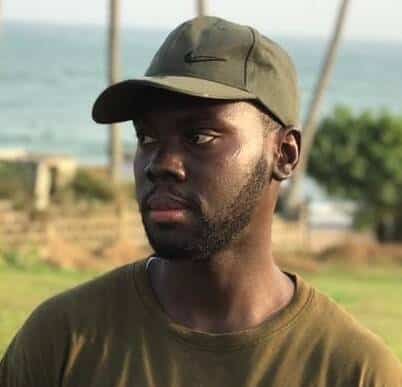 Hello, I'm Elijah. A writer on Geek Musician, based in Ghana-West Africa. I am a writer with a passion for research and reading. I usually spend my free time playing chess or watching movies. For more info, check out my about me page. Or read more of my articles here.