The Behringer WING and the Behringer X32 digital mixers are two excellent mixing consoles produced by the same musical audio equipment company. However, they have unique qualities that set them apart. 
If you are a sound engineer, then the Behringer X32, in particular, needs little to no introduction to you. This is because the Behringer X32 is one of the few mixing consoles that have revolutionized live digital mixers in a way no other mixers have.
On the other hand, the Behringer WING mixing console might be relatively unfamiliar to several people. It is a newer addition to the Behringer range of mixing consoles released in 2019.
Since its release, the Behringer Wing has won the hearts of many who have used it. However, where does it stand in comparison to the Behringer X32. I will take time to dissect these two mixer boards in-depth so read on.
Specifications
These are the specifications both mixing consoles have.
Attribute
Behringer X32
Behringer WING
Main Input channels
40 (32 XLR, 2 RCA & 6 ¼" TRS)
48 (40 XLR, 8 AUX)
Main Outputs
16 XLR
8 Midas Pro XLR outputs
I/O Expansion Slots
1 expansion slot (32- channel USB audio interface)
1x Expansion slot (24-bit/48kHz)
Headphones
2 ¼" headphone connectors
2 ¼" headphone connectors
USB
3 (1 Type B & 2 Type A)
2(1 Type B & 1 Type A)
Computer Connectivity
USB (32 x 32)
USB 2.0 (48 x 48)
A/D Resolution
24 – bit/48kHz
Up to 24-bit/ 192kH
EQ Bands
4-band Parametric (channel) 6-band on (Bus)
6-band Parametric EQ (channel),
8-band Parametric EQ (bus),
Additional EQs and Configurations
Effects
8 FX Stereo
Dual Mono effects
8 Premium FX Stereo Processors
8 Standard FX Stereo Processors
5 Variable Plug-in slots per channel or bus
Screen
7" Color Thin Film display screen
10" Capacitive Touchscreen
Storage
2 SD Card Slots
2 SD Card Slots
Dimensions (H x D x W)
(7.9 x 20.8 x 35.4)"
(7.9 x 22.6 x 34.3)"
Weight
45.4 lbs
52.8 lbs
Phantom Power
Yes – 32 channels
Yes
Ultranet
Yes
No
Misc
MIDI In/Out
2 AES50 I/O
MIDI In/ Out
3 AES50 I/O
Similarities Between the Behringer Wing and Behringer X32
One thing you should note is that both mixing consoles come with a number of AES50 network ports and a MIDI IN/OUT port. This AES50 network allows users to have 48 channels in and out per every AES50 network port.
The MIDI ports also enable you to use a MIDI controller with your mixing console. Both mixing consoles also come with a USB port and external expansion cards.
Differences between Behringer WING and Behringer X32
The two mixing consoles are among the best ones produced by the Behringer brand. Getting to know the differences that exist between the two can help you appreciate each mixing console better.
It will also make it easier to choose between the two when you are on the market for a new mixing console. With this out of the way, let's look at some of the differences between the Behringer Wing and Behringer X32.
Though the Behringer WING has fewer XLR inputs, it is ideal for people who prefer to use a stagebox with their mixer boards. This is because people who integrate their consoles with the digital snakes end up having many unused inputs and output ports left on their main consoles.
Main Input/Output channels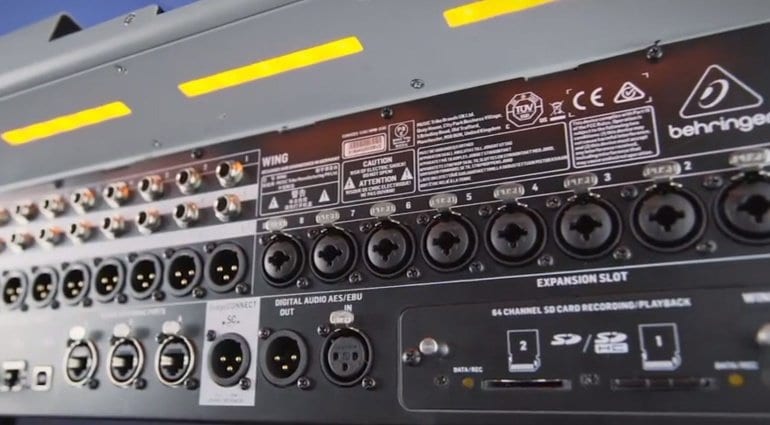 One thing that sets the Behringer WING from the X32 right off the bat is the number of inputs and output channels they come with.
The Behringer WING comes with 48 input channels. 40 of these channels serve as XLR input channels, while the remaining 8 are auxiliary channels.
This mixing console also has eight analog XLR outputs and eight auxiliary outputs. It is worth noting that the 48 input channels and 16 output channels of the Behringer WING are primarily stereo.
Aside from being stereo, all these channels can function as mono and mid-side. If you are unfamiliar with the term mid-side, this is an audio signal processing that works by dividing a stereo signal into two components.
The fact that all the 48 input channels of the Behringer Wing are stereo is huge when you look at it critically. This is because it allows you to run lots of your lines in stereo without using two pairs of channels. This helps you conserve channels on your mixer board.
On the other hand, the Behringer x32 has only 40 input channels and 16 assignable balanced XLR outputs. Of the 40 input channels, 32 are XLR inputs with Midas-designed in-built preamps. The remaining six serve as auxiliary channels.
Unlike the Behringer Wing, which comes with stereo inputs that can double as mono or mid-side inputs, the Behringer X32 inputs are mono. This means if you need to connect a stereo.
Preamps
Both mixing consoles come with great-sounding preamps. However, when we compare the preamp of the Behringer Wing to that of the Behringer x32, you will notice a great difference between the two.
To begin with, the Behringer X32 has more built-in preamps than the Behringer WING. This Behringer x32 has a preamp built into all of the 32 XLR input channels. And that gives you a total of 32 preamps on the X32.
On the other hand, Behringer WING has only 8 XLR preamps. Due to this, if you will need to connect lots of microphone inputs to your mixing console, the X32 will be a much better fit.
However, the preamps of the Behringer WING are actual Midas PRO Series preamps, while that of the Behringer X32 are Midas-designed preamp models.
Thus, the eight MIDAS Pro mic preamps of the WINGs capture higher-quality sound; hence will sound better than all the 32 preamp channels in the X32. The sound produced by the 8 preamp inputs of the Behringer WING is miles above what the Behringer x32 offers.
Controls and Interface
The Behringer X32 has a fully interactive user interface. Its controls are nicely laid out as well. It is easier for users to get familiar with the interface within a short period.
This mixing console has the main LCD screen on the right side and effects on its left. It also comes with 25 motorized faders for regulating the channel volume. Unfortunately, the X32's screen is not touch responsive.
The Behringer WING comes with 24 motorized faders for volume control. These faders have been grouped into three separate and configurable sections. However, the game-changer for the Behringer WING is the 10.1″ capacitive touch-sensitive LCD main screen it comes with.
This touch screen has an adjustable display wheel that can be swiveled to improve the display angle. Most editing and control settings on the Behringer WING console can be done using the touchscreen or the knobs beneath.
Also, the Behringer WING comes equipped with 4-channel group LCD screens and a channel editing screen. With the Behringer WING, you can even custom place the channels and sources anywhere you want.
For easy identification, you can also apply names, colors, and icons to each source.
However, navigating around this console might seem overwhelming in the initial stages. That notwithstanding, once you get used to the Behringer WING, you will realize its user-friendliness.
So, for control and interface, the clear winner is the Behringer WING, provided you take the time to learn how it works and how to configure it.
Recording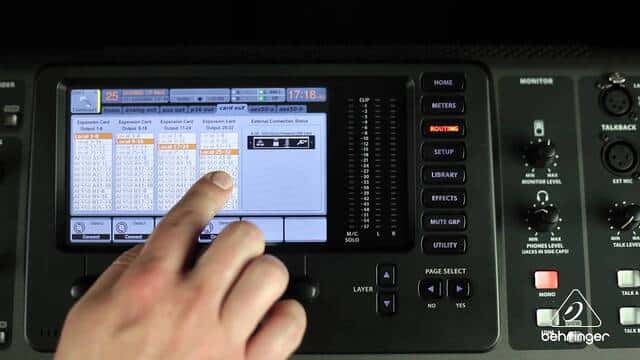 The recording capabilities of these two mixing consoles are another area that sets them apart. The Behringer X32 comes equipped with a Behringer-designed dual SD card recorder that offers you 32 channels of USB recording.
The amazing thing about this dual SD card recorder is that there are two separate controllers that control the SD card. This allows you to run 32-track playback recordings on both tracks separately.
What this means is that you can have one card recording while the other plays tracks at the same time.
Behringer X32 also has an X-USB recording interface card that is compatible with all major DAWs. With this, you can simply record straight from the X32's channels by simply connecting the mixing console to your laptop or computer.
Another great thing about this mixing console is that it also comes with expansion cards that enable you to record via Dante, Fireware, MADI, and ADAT. It has an expansion slot for other formats as well.
Although the recording capability of the X32 is impressive, the Behringer WING also comes up top over the X32 in this aspect. The final recording quality of the Behringer WING is very impressive.
This Behringer WING mixing console has a 48 x 48 channel USB 2.0 recording interface for multitrack recording. With this, you can record 48 x 48 channels via the USB recording interface by simply connecting to an external computer.
Like the X32, the Behringer WING also has two SD card slots for recording. However, it is capable of recording more channels than the X32 can.
Unfortunately, when the Behringer WING was released, it did not come with expansion cards. Due to this, initially, you could not record via MADI, Dante, or ADAT.
Thankfully, now some of these expansion cards have been made available. Installing them in your Behringer WING mixing console will significantly double the capacity of your expansion slot and recording capability.
Which One Should You Buy? My Opinion
Ideally, the mixer you buy should be suitable for the audio setup and job you intend to do. If you have read up to this point, you might already know which of the two you would go in for.
However, personally, if I had to choose between the two, I would choose the Behringer WING over the Behringer X32. And here's why.
The Behringer WING is a mixer for the future and has the potential to be much better with future software updates and upgrades. Nowadays, a modern digital mixing console is basically a computer at heart, and the Behringer WING puts this into perspective with its touchscreen display.
This touchscreen display that comes with the Behringer WING serves as a computer tablet. It allows users to navigate around and select various options from the console at the touch of their fingers.
It also comes with rotary controls, which provide touch-sensitive channel editing.
As a fan of modern technology, the prospect of having everything with all the controls available on a touchscreen display is one I relish. If you are as well, you will definitely be moved by the Behringer WING's touchscreen.
The truth is, the sound quality produced by both mixers is amazing. However, the Behringer WING sounds better than the X32. One of the reasons for this is the Midas PRO Series preamps it comes with.
In addition, the Behringer WING generally has better all-round specifications and does more than the X32.
It offers a lot more analog and digital input as well as output options as well. This provides you with more than enough options for connecting audio equipment and devices to your mixing console.
Also, the recording capability and final recording quality of the Behringer WING come up top over the X32 in this aspect as well. With the Behringer WING, you can record many more channels simultaneously than with the X32.
This makes the Behringer WING ideal for live recordings involving many instruments and inputs.
Another reason why I am leaning towards the Behringer WING is that it offers easier routing than the X32. Setting up and connecting peripherals like stage boxes, USB drives, DAWs, and many others to the Behringer WING mixing console is easier to configure.
The downside of choosing the Behringer WING over the X32 is that it is way more expensive than the Behringer X32, so you would have to spend a bit more to get it. That notwithstanding, if you can afford it, you should definitely go in for the Behringer WING.
As you already know, the X32 is relatively older than the Behringer WING. Due to these, there are lots of sound engineers and technicians who know their way around it.
For this reason, it's quite easy to find help when you run into an issue with the Behringer X32. This convenience might be why some might choose the Behringer X32 over the WING, which is a valid reason.
But if you consider yourself tech-savvy, which you probably are, the Behringer WING will be an excellent option for you. You should be able to learn the ins and outs of the Behringer WING in no time, and trust me; you'll enjoy it.
Can You Connect the Behringer WING to the Behringer X32
Yes, you can connect the Behringer WING to the Behringer X32. This is because the Behringer WING mixing console is compatible with the Behringer X32 mixing console. Due to this, you can connect the Behringer X32 to the Behringer WING through its AES50 port.
The truth is, the Behringer WING mixing console can be connected to lots of other peripherals like stage boxes, computers, and USB drives via different channels and ports on the Behringer WING mixing console.
You may be familiar with some of these ports if you have gone through this article. Some of these ports include MIDI In/Out, Date I/O, Busses/Groups, and many more.
As I mentioned earlier in this article, the Behringer WING mixing console comes with an AES50 port. You can connect the Behringer WING and X32 via this AES50 port.
You can also connect Behringer and Midas digital snakes and personal monitoring system with the Behringer WING via this AES50 port. Once these devices have been connected, all you need to do is to assign these sources to the channels.
Conclusion
The Behringer X32 and Behringer WING digital mixers are great mixing consoles with all you need to produce a great mix and recording.
However, the Behringer WING is a huge upgrade to the Behringer X32 and offers more connectivity options and controls. It offers users more input and output channels. Therefore, if you can afford it, you should definitely go in for it.
The Behringer X32 comes with a great price tag, hence is less expensive than the Behringer WING. Thus, if you are running on a tight budget, you can look in the direction of the Behringer X32. And it gets the job done.