Behringer and Midas have remained the two most sought-after brands when it comes to digital mixers. And the Midas M32 and Behringer WING are two of the popular digital mixers available today.
However, with all the different features and similarities of these two mixers, it can be quite difficult to choose which one you need for your audio setup.
So in this article, we're going to talk about the Midas M32 and the Behringer WING, their similarities and differences, and share my thoughts on which one to go for based on your needs. Let's dive straight into it.
Specifications
Attribute
Midas M32
Behringer WING
Price
Check Current Price on Amazon
Check Current Price on Amazon
Main Input Channels
40 (32 XLR, 8 Aux)
48 (40 XLR, 8 AUX)
Main Outputs
16 XLR
8 Midas Pro XLR outputs
Data I/O
2 AES50 Ethernet ports
2 x Ethernet (control/ audio network)
Headphones
2 ¼" TRS h
2 ¼" headphone connectors
Busses/Groups
25 mix busses, 8 DCA groups
8 stereo matrixes,
4 stereo mains,
16 aux stereo Bus
USB
2 (1 Type B & 1 Type A)
2( 1 Type B & 1 Type A)
Computer Connectivity
USB, Ethernet
USB 2.0, 24-bit/48kHz (48×48)
A/D Resolution
24 – bit/48kHz
Up to 24-bit/ 192kH
EQ Bands
4-band EQ
6-band Parametric EQ (channel)
8-band Parametric EQ (bus),
Additional EQs and configurations
Effects
Yes (8 Stereo FX Engines)
8 Premium FX Stereo Processors,
8 standard FX Stereo Processors,
5 Variable Plug-in slots per channel or bus
Screen
7" Thin-film-transistor (TFT) Screen
10" Capacitive Touchscreen
Storage
2 SD card slots
2 SD Card Slots
Dimensions (H x D x W)
(10.1 x 24.1 x 35.1)"
(7.9 x 22.6 x 34.3)"
Weight
55 lbs
52.8 lbs
Phantom Power
Yes
Yes
Misc
MIDI In/Out
AES50 I/O
MIDI In/Out
3 AES50 I/O
Similarities Between the Behringer WING and the Midas M32.
A while back, we compared the Midas MR 18 with the Behringer XR18 on this blog. You can read that article here. Now that I've got that out of the way, let's talk about what the Behringer WING and the Midas M32 have in common.
Type of Preamp
One major thing that the Behringer WING (on Amazon) and the Midas M32 (also on Amazon) have in common is the type of preamp they come with. The Behringer and Midas M32 mixing consoles come equipped with Midas PRO series microphone preamps. 
Midas PRO preamps are the company's top-of-the-line award-winning mic preamps. And the Behringer Wing is, so far, the only Behringer with the Midas PRO preamps.
All previously made Behringer digital mixers come with Midas-designed preamps, a lower-quality version of the Midas PRO preamps.
So when it comes to sound quality, the Behringer WING preamps sound as excellent and high quality as the Midas M32.
Recording
The Behringer WING and Midas M32 have excellent recording capabilities that make them ideal for live recording applications. However, there are some slight variations in the full extent of their recording capabilities. I will talk about this later in this article.
That notwithstanding, one thing they have in common when it comes to recording is that both mixing consoles have two SD card slots for live recordings. With this, you can record separately on both SD cards while the other plays tracks.
Furthermore, expansion cards can be fitted on both mixing consoles to upgrade their recording capacities. This will increase the capacity of its expansion slot and recording capability. With this, you can record via MADI, Dante, or ADAT.
Differences Between Behringer WING and Midas M32
Though the Behringer WING and Midas M32 mixing consoles have some few similarities, there are quite a number of differences between them as well. Let's take a look at the main differences.
Main Input/Output Channels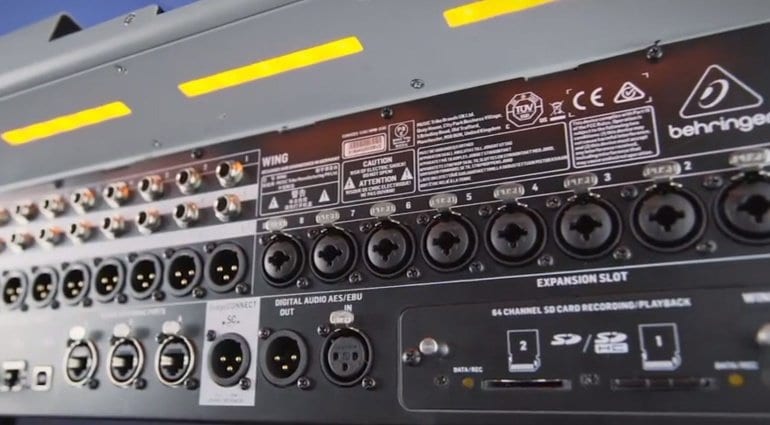 The Behringer Wing is a mixing console with 48 input channels with 40 serving as XLR inputs where you can plug your XLR connectors. The remaining 8 serve as AUX channels. It also comes equipped with 8 analog XLR outputs and 8 auxiliary outputs. All of these channels come in stereo.
As you may already be aware, stereo inputs enable you to save lots of channels. What do I mean?
To have a stereo channel on a digital mixer with mono channels, you'll have to pair two mono channels to make a stereo channel. This makes you lose a lot of channel count.
This is why the stereo channels of the Behringer WING will help you save channels, thereby making maximum use of the channels that come with the mixer.
Thus, if you require more channels, especially stereo channels, for your work, then the Behringer WING will be the better option for you. The great thing about the Behringer WING's stereo channels is that they can also handle mono and mid-side audio signals.
On the other hand, the Midas M32 mixing console comes with only 40 input channels. Of these 40 input channels, 32 are XLR analog mic input channels with Midas Pro Mic Preamp inputs.
The remaining 8 channels are AUX channels, providing you with auxiliary mixes separate from the main mix. When it comes to the output channels, it has 16 XLR outputs, with two of these serving as the main outputs.
However, unlike the channels in the Behringer WING, all the channels of the M32 are mono.
Number of Preamps
If you read about the similarity that exists between these two mixing consoles earlier in this article, then you already know that both mixing consoles have the same type of preamps in them.
But the number of preamps on both consoles is completely different. And this is one significant difference between the WING and the M32 console.
The Midas M32 digital mixer is equipped with 32 Midas PRO series microphone preamps.
On the other hand, only 8 of the input channels on the Behringer WING come with preamps. This number is far less than the 32 preamps in the Midas M32.
Since the Midas M32 has more input channels with preamps, it is more suitable for setups requiring many microphone inputs.
Screen and Controls
One of the things that stands out on the Midas M32 is its angled screen and effects section that is right in front of the user. This brings all the controls, knobs, and displays closer to the one using the mixing console.
In plain terms, all the most important knobs and controls on the Midas M32 are within reach and easy to access.
On the other hand, when you take a look at the Behringer WING, you will notice straight away that it lacks the distinct upper tilted section found on the Midas M32.
Unlike the Midas M32, which comes with an angled screen and effects section, only the touchscreen of the Behringer WING is angled. Thus, aside from its touchscreen, every section on the Behringer WING is laid back flat.
Due to this, the Behringer WING is not as accessible as the Midas M32's control section and screen. In all honesty, this isn't such a dealbreaker.
Talking about the screens that come with both consoles, the angled screen found on the Midas M32 is a 7″ full-color TFT display screen that is viewable even in daylight. This 7″ screen comes with the Midas M32 and is not a touch screen.
However, the Behringer WING comes with a large 10″ high-resolution capacitive touchscreen that is very responsive to touch. The presence of this touchscreen offers users the option of balancing between the use of the knobs, faders, buttons, and screen during mixing.
Also, the Behringer WING's screen size is quite large compared to that of the Midas M32.
Overall, when it comes to control, the Behringer WING is a far better option compared to the Midas M32. That's because you can custom configure the three different fader sections on the WING to control any parameter you want, however you want it.
This leads to overall faster control and workflow. It takes a while to learn how to custom configure the WING. But once you learn and master it, you'll realize how easy it is to use and customize the Behringer WING's controls.
Recording Capabilities
The Midas M32 mixing console has been built to have an onboard USB 2.0 connectivity technology that enables you to record all 32 XLR input channels.
The USB 2.0 audio interface is a 32 in/out USB connection port where you can connect your DAW for recording purposes. With this, you can capture and record multichannel audio directly to your computer and perform virtual sound checks.
Furthermore, this Midas M32 mixing console also has a USB slot that accepts flash drives. All these make this Midas M32 mixing console ideal for studio and live recording.
The Behringer WING mixing console also has a USB 2.0 recording interface for multitrack recording. However, the number of channels it can record is more than that of the Midas M32.
The USB 2.0 recording interface of the Behringer WING allows you to record 48 x 48 channels via the USB recording interface by simply connecting to an external computer.
This clearly shows that; the Behringer WING can record more channels than the Midas M32 mixing console.
Build Quality and Interface
The Midas M32 is a mixing console built to have a sleek and ergonomic design. It spots a classical British mixing console design that is elegant and beautifully streamlined.
Additionally, it is built with high-end materials. Due to this, the Midas M32 offers formidable durability and strength. Despite its classic design, this Midas M32 mixing console comes equipped with advanced modern mixing console technology.
It has 25 Midas PRO motorized 100mm faders and a fully interactive user interface. This Midas M32 mixing console also comes with LCD scribble strips that allow you to name channels easily and quickly.
It also has dedicated physical buttons and knobs for tweaking and making parameter changes.
On the other hand, the Behringer Wing has a vintage mixing console look. It is built to have 24 motorized faders. This mixing console has three separate fader sections and custom controls that allow you to customize the WING controls however you want. I've already mentioned that.
The Behringer WING also comes with several knobs and buttons.
However, unlike the Midas M32, which comes with dedicated knobs and buttons for each channel, the knobs and buttons of the Behringer Wing are universally shared between different parameters depending on what is selected and shown on the screen.
Flexibility of Routing
With the Behringer WING, routing is more flexible. This is simply because the allocation of inputs on the Behringer WING can be linked to any output at all.
This is because the patch and channel assignments are done on a separate workflow. Hence, the channel assignment does not necessarily have to follow what was physically inserted at the I/O port.
Due to this, sound engineers that use the same Behringer WING can have different channel assignments in their workflow.
Also, the Behringer WING allows users to customize the layers on the console to their preference. This enables users to rearrange channels according to their importance to the setup. Accessing these rearranged channels is easy to do as well.
Most users of the Midas M32 have fond testimonials of the ease with which they can route inputs and outputs on the Midas M32. This is because the Midas M32's recent firmware update has also helped improve the routing flexibility it offers.
Its DSP processing and routing have received a tremendous upgrade and offer great room for expansion.
However, it is nowhere near the flexibility and ease of routing that the Behringer WING offers. This is because, with the Midas M32, you cannot do patch and channel assignments on a separate workflow. All of its layers and channels are fixed.
Thus, allocating inputs to any output of your choice is impossible. The Midas M32 does not provide the option to customize the console's layers.
Which One Should You Buy? My Opinion
The Behringer Wing and the Midas M32 are undoubtedly great mixing consoles. Therefore, it will not be surprising if you find it difficult to choose between the two.
Even though the same parent company basically manufactures the Behringer Wing and Midas M32, I believe the Midas M32 mixing console is by a large mile better than the Behringer X32 mixing console.
Therefore, when faced with choosing between the two, I will definitely go in for the Midas M32.
My primary reason for going with the Midas M32 is the fully integrated 32 input channels it comes with. Its 32 input channels that come with top of the word premium Midas preamps are more than the 8 Midas preamps found in the Behringer Wing.
What this means is, with the Midas M32 mixing console, you are assured of a great mix, premium sound, and a lot more input channels where you can connect microphone inputs without spending money on acquiring external mixing consoles and snakes for expansion.
Therefore, with the Midas M32, you can enjoy the full capacity of the board without any additional purchases.
Furthermore, the Midas M32 has been in the market for over 8 years. Thus, it has undergone many firmware updates, ultimately improving it significantly.
The fact that it has been used in many concerts and tours instills confidence and assurance in the quality and durability of the Midas M32. Thus, I am positive that the Midas M32 console I purchase will develop little to no issues at any point.
On the other hand, the Behringer WING is relatively new to the market. With every new product and gadget, there is the tendency for bugs and other issues to pop up in its early years. It may take time for these bugs that pop up to be fixed as well.
Moreover, the Midas M32 mixing console has a simple design and optimized workflow with durable motorized faders and tactile controls. Its dedicated built-in physical knobs and buttons basically aid you to work and effect changes faster.
With the Midas M32, you do not need to first select each parameter or channel before using the universally shared button and knobs to tweak your settings. Thus, the Midas M32 enables its users to work faster.
Finally, the classic yet ultramodern design and outlook of the Midas M32 make it a true work of art. This is unlike the Behringer WING, which spots a vintage look.
Thus, if you are big on aesthetics and appearance, you would definitely love the Midas M32. One thing I failed to mention earlier is that designers of the Bentley vehicle designed this outlook design of the Midas M32.
Let's not forget that the Midas M32, like every other Midas mixing console, has set the bar high regarding sound quality. It is a medium format mixing console that delivers excellent performance.
All these make the Midas M32 an excellent fit for your recording and broadcasting applications and Live sound applications.
Although I'll personally go for the Midas M32 over the Behringer, I need to acknowledge that the Behringer WING is better in some situations than the Midas M32.
For instance, if you work with more stereo inputs such as keyboards, backing tracks, and more, the Behringer WING is a better option.
And also, if you need more input channels for your audio setup, then the 48 inputs on the Behringer WING give you more inputs to work with, making it a better option in that regard.
Conclusion
The Behringer Wing and Midas M32 digital mixing consoles are among the best in their category. They are amazing mid to high-entry digital mixing consoles that produce great mixes and high-quality recordings.
I hope this article helped you make an informed decision on which digital mixer to go for. If you found this helpful or at least informative, do well to share this with someone who may need it.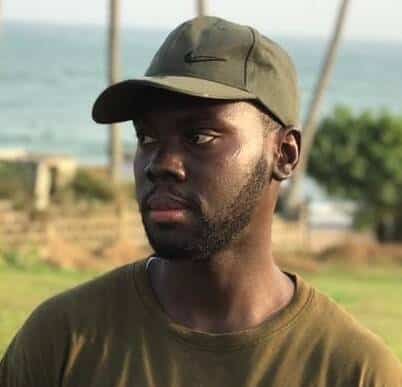 Hello, I'm Elijah. A writer on Geek Musician, based in Ghana-West Africa. I am a writer with a passion for research and reading. I usually spend my free time playing chess or watching movies. For more info, check out my about me page. Or read more of my articles here.