Loopback is becoming increasingly popular since reaction videos, live streaming, and video conferencing are still on the rise.
After reaching out to some friends who use loopback, checking out the audio interfaces of some big YouTube and twitch streamers, and doing my own research, here are six of the best audio interfaces with loopback.
But first, let's talk a little about loopback, just so we're on the same page. 
What is Loopback?
Loopback is a feature on audio devices such as mixing consoles and audio interfaces. It allows you to pass audio easily from one application to the other.
You can record your computer's system audio into your DAW with loopback. You can also record from a video conferencing software such as Zoom to a live streaming platform such as twitch with the help of the loopback feature.
There are different ways to set up loopback. And it mainly depends on the audio interface you're using. We'll talk more about this later in the article.
Things to Consider When Choosing Audio Interface
There are many things to consider when choosing an audio interface. But I'll focus on the three most important ones based on this topic. And that will be the total number of inputs/outputs, ease of setting up loopback, and budget, of course.
Number of Inputs/Outputs
One of the most important things to consider when buying an audio interface is the number of inputs and outputs. Why do I say so? Let me give you a few scenarios.
If you're planning to record video tutorials such as music production or video editing tutorials or stream your gameplay all by yourself, then a two-input audio interface will be great for you.
However, if you're planning to use your audio interface for a podcast where you talk with multiple people, or if you're planning to record drums or multiple vocalists simultaneously, then an audio interface with four or more inputs will be ideal.
The same concept applies to the number of outputs you may require. If you're going to use multiple studio monitors with your audio interface, or need different headphone mixes for multiple individuals, then an audio interface with four or more outputs will be ideal.
Otherwise, an audio interface with two outputs should be enough if you're using it alone and with a single pair of studio monitors.
Ease of Setting Up Loopback
Another thing you should consider when picking up an audio interface with a loopback feature is to find out how easy it is to set up the loopback. You don't want to spend too much time figuring out how to set the loopback up.
Setting up loopback is actually in two phases. The first phase is the easiest. All you need to do is plug one end of a cable into your interface's main output and plug the other end into the input. This will set you on your way to recording audio directly from your computer.
However, after doing this, you need to work on the settings on your PC and mix control to get them set right for the recording. Configuring these settings on a computer varies from one audio interface to the other.
Some audio interface brands make it quite easy to set the loopback up. And by following the user manual, or a video tutorial, you should be able to set them up in no time.
On the other hand, it can be quite hard to set up loopback on some audio interfaces, although it has the feature built-in. In such instances, you may have to rely on experts to set up your loopback for you.
Ideally, you should be able to set up loopback on your audio interface by yourself, regardless of the process.
Budget
I don't need to spend much time here because I think we pretty much know what this is about. At the end of the day, the audio interface we'll go for ultimately depends on how much we are willing to spend unless money isn't an issue for you.
Usually, the more you're willing to spend to get an audio interface, the more inputs, outputs, quality, and premium features you should expect.
Now that we got that out of the way let's talk about six great audio interfaces with a loopback feature.
MOTU M2
The MOTU brand is one of the big players in the professional audio industry. Thus, the MOTU M2 USB-C audio interface (on Amazon) is undoubtedly one of the best loopback audio interfaces you shouldn't sleep on.
This audio interface is a bus-powered beginner entry audio interface whose performance and quality far outweigh its price tag.
It has two microphone combo XLR/Line TRS inputs and two ¼" TRS line outputs. These microphone combo inputs offer phantom power. And this means you can record two audio at a time.
Additionally, this audio interface has a headphone out, MIDI In/Out, and USB-C functionality.
MOTU is well-known for its high-quality pristine sounding preamps and converters, and the MOTU M2 delivers on that.
Another feature worth highlighting about the MOTU M2 is the LCD screen that it comes with. It is fully colored and allows you to monitor audio levels to make sure your audio is not clipping.
When it comes to loopback, the MOTU M2 also makes it quite easy to set up. First, you'll have to install the required drivers. And these can be found on MOTU's website.
After installing the drivers, MOTU also has a video guide that walks you through, step-by-step, how to set up loopback on the MOTU M2 audio interface. And it's quite a simple process, actually.
The only downside of the MOTU M2 audio interface is that it doesn't have many input and output channels. It comes with only two input channels (4 if you include the Loopback channel) and two output channels.
You may be restricted if you want to simultaneously record multiple instruments or audios.
However, if you're planning to stream, make YouTube video tutorials all by yourself, or start a two-person podcast, the MOTU M2 is an excellent audio interface that will easily get the job done. Check out the current price of the MOTU M2 on Amazon here.
Audient EVO 4
Audient EVO 4 audio interface (on Amazon) is a portable, 2-in, 2-outs audio interface made with musicians, streamers, and podcasters in mind.
This audio interface has two XLR/1/4" combo ports, and both ports have a preamp and phantom power supply built into them. It also has two ¼" TRS output ports.
The EVO 4 was designed to be very easy and quick to set up. Why do I say so?
Firstly, all the buttons and a large volume knob are positioned at the top panel for easy access and control. Also, it has a unique feature called Smartgain, and it is meant to speed up your workflow.
Smartgain detects the loudness of audio, either from an instrument or from your vocals. And then, it automatically adjusts the gain by either boosting or reducing it to the appropriate level. This means you can immediately start recording once you have it set up.
Just like the MOTU M2, the Audient EVO 4 Loopback is quite easy to set up as well. And they have a video guide that fully explains the entire process.
The great thing about this interface is that there are multiple ways to use the loopback feature. And all you have to do is to use the one that fits the audio setup you're trying to achieve.
Besides all of the features and functions of the Audient EVO 4, it's inexpensive.
So here are my final words on the Audient EVO4 audio interface: if you're looking for a portable, easy-to-setup, easy-to-use entry-level audio interface that delivers professional-level performance, then you should definitely consider the Audient EVO4. Check out the current price of the Audient EVO4 audio interface on Amazon here.
Focusrite Scarlett 4i4 (3rd Gen)
Focusrite is, without a doubt, one of the most popular names in the audio interface industry. That's because, for so many years, Focusrite has been known to produce professional-sounding audio interfaces at moderate prices.
Their most popular model, the Scarlett 2i2 audio interface, has been the go-to audio interface for many musicians and home recording engineers. The Scarlett 4i4 is an upgrade to the 2i2 for those looking for more input and output channels.
The Focusrite Scarlett 4i4 audio interface (on Amazon) has two XLR ¼" combo inputs and two ¼" line inputs, making a total of four input channels.
Both combo input channels on the front panel have a built-in preamp and a phantom power supply for condenser mics. And they sound incredibly transparent and pristine.
Additionally, this audio interface has four ¼" line outputs which you can run two stereo outputs or four mono outputs. This means you can get different mixes on each output.
The loopback feature was recently included in the Scarlett series audio interfaces. So they can only be found on 3rd Generation Scarlett interfaces, from 4i4, 8i6, 18i8, and 18i20 audio interfaces.
And just as the other audio interfaces already discussed, Focusrite provides a very extensive video that walks you through how to set up loopback and record your computer's internal audio. So this should be easy to set up.
Who is the Focusrite Scarlett 4i4 audio interface ideal for?
I recommend the Scarlett 4i4 audio interface for music producers and musicians with keyboards, synthesizers, and outboard audio effect units in their recording studio.
This way, you can connect all of your instruments to a mixer and then connect the mixer's output to the line inputs of the 4i4 for easy recording. Then you can use the two combo inputs for mics and guitars.
Overall, the Focusrite Scarlett 4i4 audio interface is worth every penny. You're guaranteed to be quite impressed with this audio interface, just like thousands of other music producers and engineers who use it. Check the current price of the Focusrite Scarlett 4i4 audio interface on Amazon here.
Presonus Revelator io24
The Presonus Revelator io24 (on Amazon) is an audio interface that delivers premium quality audio and comes with a ton of unique features you wouldn't find in an audio interface in this price range. And you'll understand why in a moment.
Firstly, this audio interface has two combi inputs with built-in Presonus X-MAX preamps and a stereo L/R output for your studio monitors. These are the same preamps used in top-of-the-line Presonus digital mixers and stageboxes.
On the unit itself is a screen and a rotary encoder that performs many functions, including monitoring and adjusting levels for your input channels, main and headphone output channels, and turning on and off phantom power, among others.
What makes the Presonus Revelator io24 stand from all the other audio interfaces in this list and in its price range is that it has a built-in DSP. For the price it comes, I was quite surprised that there is a built-in High-Pass Filter, Gate, EQ, Compressor, Gate, and other voice effects made for the two channels.
You can even have different mix presets for different vocals or instruments for easy recall.
Once you install the Universal Control software for Presonus, you'll be able to use all these and more on your input channels. You can stream or send your processed audio directly from the Universal Control software to your desired streaming platform/software.
The Presonus Revelator io24 has two stereo loopback channels for gaming and streaming. Check out the current price of the Presonus Revelator io24 audio interface.
Universal Audio Apollo Solo Thunderbolt 3
Universal Audio is one of the top-of-the-line brands in the audio industry. They are mostly known for making premium, high-performance audio interfaces, and top-quality audio plugins. And the Universal Audio Apollo Solo audio interface (on Amazon) is one such audio interface.
This audio interface also has two XLR ¼" combo inputs. And both inputs have a built-in preamp. It also has two line outputs that can be used for your studio monitors or used separately for different mixes. Pretty standard stuff.
The buttons and controls on the Universal Audio Apollo Solo are also very well laid out and self-explanatory. You wouldn't need to read the manual before you're able to use this interface. The Apollo Solo is a thunderbolt audio interface. This means your Mac or PC must have a thunderbolt if you want to go for this audio interface.
Universal Audio audio interfaces stand out from anything else on the market with their onboard DSP and plugins. Let me explain.
The Universal Audio Apollo Solo audio interface comes with UAD plugins for mixing and mastering. And these plugins are some of the best audio plugins available today.
And on the audio interface itself is an onboard DSP that processes these audio plugins. This prevents latency during recording, mixing, and mastering because the audio interface handles all the processing of the UAD plugins.
And that's why the Universal Audio audio interfaces, although expensive, are some of the most sought-after audio interfaces by many professional engineers.
The Apollo Solo by Universal Audio also has a loopback feature that allows you to record your computer's system audio along with the two audio channels. This is helpful for making reaction videos, twitch streaming, or making tutorial videos. Check out the current price of the Universal Audio Apolo Solo here.
Arturia Minifuse 2
Arturia is popularly known for its synthesizers, midi controllers, and virtual instruments. But they also make inexpensive audio interfaces for home studios. And the Arturia Minifuse 2 (on Amazon) is one of those audio interfaces.
The Arturia MiniFuse 2 is an ultra-compact audio and MIDI interface manufactured by the French company Arturia. This audio interface is portable and comes fully loaded with all you need to produce the best sound possible. It comes equipped with two preamps that offer phantom power capabilities.
This audio interface has two analog inputs and two analog outputs. It features a single combo input where you can plug either your XLR or ¼" jack cable. Additionally, it has a headphone output on its front panel, which has an independent volume control.
The Arturia Minifuse 2 offers USB-C compatibility and is built to have a traditional 5-pin MIDI I/O. This enables you to integrate old-generation drum machines and synths. It comes with a Minifuse Control Center app that enables you to monitor all ports, settings, and updates.
Its virtual stereo loopback channel is also impressive. It allows you to monitor and record audio from your computer whilst using the interface's analog inputs.
In summary, the Arturia Minifuse 2 is an audio interface that provides you with unmatched sound quality and is ideal for mobile recording and home studio applications. It produces incredible recordings as well. Check out the current price of the Arturia Minifuse 2 on Amazon.
Conclusion
All of these audio interfaces are great options for loopback. And they are all fairly easy to set up as well. The option you will go for should ultimately on your audio needs.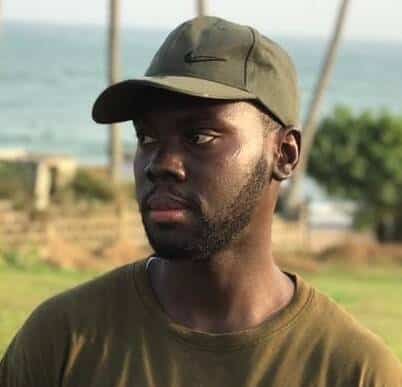 Hello, I'm Elijah. A writer on Geek Musician, based in Ghana-West Africa. I am a writer with a passion for research and reading. I usually spend my free time playing chess or watching movies. For more info, check out my about me page. Or read more of my articles here.